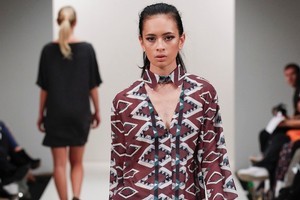 Day three of fashion week opened with the solo show for Taranaki-based husband and wife team Keri Wanoa and Hemi Sundgren's Whiri label, building on its exposure from the last two New Zealand Fashion Weeks.
Entitled Crossing Generations, the collection focuses on a unique blend of indigenous inspired design and motifs.
Looking to raise the profile of Maori design, Whiri shows real promise with a considered colour palette and a well-edited collection of wearable separates.
Key pieces include burgundy velvet slim fit trousers, wool coats and two of the best cardigans seen this week - both large woven knits that takes inspiration from traditional Maori weaving techniques.
Whiri's prints next season also focus on Maori artwork, with detailed geometric patterns featuring on skirts, blouses and silk pants.
OUR ONE-WORD REVIEW: Promising.