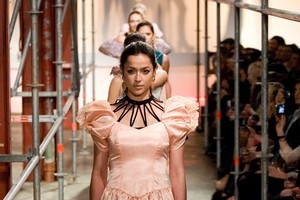 A Stolen Girlfriends show at Fashion Week has garnered a reputation as being another excuse for the label to throw a party but the lovable larrikins behind the brand - Luke Harwood, Dan Gosling and Marc Moore - have worked hard to create what has arguably become New Zealand's next international fashion brand.
With Harwood setting up a base for the label in New York last month, it can't be long before SGC taps into bigger things.
Tonight's show highlighted the pulling power SGC has and with a whole lot of their customers trotting along in SGC body con dresses, faux fur jackets and platform Beau Coop/ Jeffery Campbell platforms, it didn't take long before the off site venue was packed to the brim.
The menswear came first in a clever pop-up show that saw male models walking out while guests lined up to go inside the venue. In an effort to create his own separate identity, the SGC boy next season will most likely be wearing red plaid check shirts, oversized sweaters and a stand-out crisp white dress shirt with woven detail across the front.
For the womenswear, some of New Zealand's more recognisable faces strutted down the runway, with a stellar line-up that including Ngahuia Williams, Penny Pickard, Grace Owen and Veronica Crockford-Pound.
Walking out at the start of the actual show to Madonna's Like A Prayer in some questionable 80s ball gowns, they stopped in the middle of the runway to take off the dresses and reveal the actual SGC collection underneath.
Made up of what the label sells well - thigh grazing cocktail dresses, printed denim, silk blouses and faux fur jackets - the collection also highlighted delicate lace tops and dresses in white and black.
Stylist Zara Mirkin once again showcased her adept understanding of the SGC girl - cool, confident and sexy.
Indeed, Mirkin's signature stylistic handwriting proved to have a following all of its own, with key accessories such as large 90s Moschino-style costume earrings, oversized leather backpacks and vertiginous platform boots also taking centre stage.
One disappointment however was the ill-fitting high-waist wide-leg trousers worn by another model veteran, Amanda Hunt, which came down the runway looking less than impressive.
Nevertheless, the collection is a smart move, focusing on fine tuning what the brand does well and continuing to cater to it's increasing market, both here and abroad.
OUR ONE-WORD REVIEW: Tight.