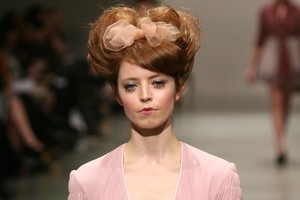 With a whole collection of cutie pie dresses - one couldn't help wonder if Annah Stretton is targeting a younger market.
Very young in fact, with a collection entitled Living Dolls it was a saccharine sweet show of very short, puff ball prom dresses and ice-skater jackets in a palette of pretty pastels.
Young 14-year-old model Katie Holcroft, the latest find for Monarch Models made an appearance.
OUR ONE-WORD REVIEW: Kewpie.