Dodging the tourist traps, Ewan McDonald discovers a very old new world just off the beaten track in Barcelona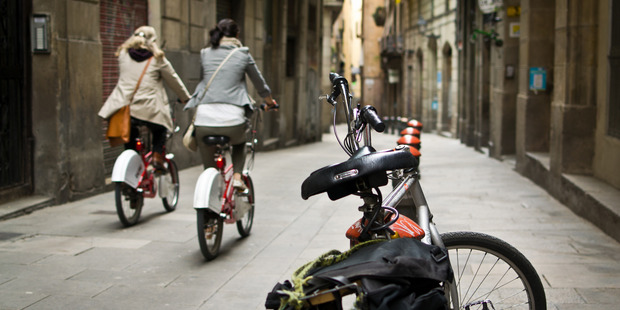 Sunday, and the church bells are ringing noon. Families have come out to pray. Palm Sunday, honouring Jesus' arrival at Jerusalem before his crucifixion, is an immoveable fiesta, one of the most important days of worship in Spain.
Congregations carry ornately crafted staffs of bleached palm leaves home from blessing.
The working city is slower to wake up. Perhaps it's a little early - it's not even April. The huge silver birds won't begin to lay their golden eggs at the airport for weeks.
Take a look at photos from the back streets of Barcelona: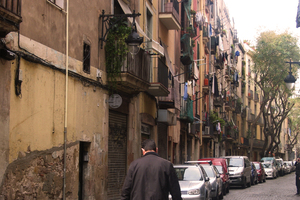 Barcelona is never without visitors, however. They are ambling Las Ramblas, massing at Sagrada Familia (even though it's one of the few days when services are held in the unfinished church, and the moneychangers can't enter the temple until 3). Thronging the Gaudi Park Guell are T-shirts of many colours, and nations.
Chatter, crowds, sun, sirens clearing a path through streaming traffic ... time to escape to a quiet plaza, a cafe, a beer and a bocadillo. Sloth in the afternoon.
I'm near the foot of Las Ramblas, the city's broad, mostly foot- and hawker- and street-artist main drag, close to its full-stop, the lofty statue of Christopher Columbus. It marks his return from voyages of discovery, probably met by a crowd of local butchers and bakers protesting his flagrant disregard for food-leagues.
I duck into an alley and wander into another. Only 50m from the tourist tapas it hits me: the silence.
The map that every hotel receptionist gives every visitor on behalf of Spain's nation-dominating department store, El Corte Inglese, does not bother to name these lanes, cul-de-sacs. Indulging the traveller's greatest privilege and pleasure, I have given myself permission to get lost.
Ciutat Vella, which even my non-existent Catalan can translate as "the Old City", is where Barcelona was born and grew up.
Here are the last bricks in the walls of the Roman port of Barcino; there, from the 12th to the 14th centuries, when the Mediterranean was the heart of world trade and this was the brain of its merchant class and brawn of its labourers and sailors, are the palaces and trading houses and workshops and markets.
Where I stand they built ships, and confident traders sent them to the ports of Europe and Africa and the Middle East and brought back everything that was known under the sun then.
There would be more to find, and exploit, and the swaggering new united kingdom of Spain, under Ferdinand and Isabella, underwrote it. Conquered the Atlantic and its coasts in the 15th and 16th centuries. Became the world's superpower.
That's why that statue dominates the seafront; the stock exchange and city council still work (or perhaps not, in the country's current state of 26 per cent unemployment and 2.4 per cent inflation) from buildings that the Columbus crew could see as they came home.
Mazes. Shade. Calm. Two and three and four storeys above, washing and pot plants and Catalan independence flags (a white star on a blue triangle flashed across the provincial ensign) hang from balconies.
The old town is only a few blocks in any direction, but has defined suburbs. I'm in La Ribera, "the Shore".
It used to be: local trades guilds built the giant Santa Maria del Mar basilica on the waterfront facing the source of their income, although their labours on "the People's Cathedral" were not quite as romantic as depicted in Ildefonso Falcones' epic Cathedral of the Sea. Now its vista is blocked by 17th and 18th century mansions on reclaimed land; and in front of those, Barceloneta, once an island, is now a watersport, boutique and restaurant enclave, muchas gracias to the 1992 Olympics.
There are still tourist enticements here: museums for Picasso, textiles, medieval art, chocolate. But I can almost taste the beer, not to mention the jamon.
Past the Fossar de les Moreres, a mass grave of Catalan soldiers from the 1714 siege which saw the city fall to the French, and a citadel built over the demolished homes and shops.
El Born, the next district, is named for the elegant wrought-iron market that supplied the city's food wholesalers for more than a century. It closed a decade or more ago and is being transformed into a Catalan cultural centre. Slowly - previous comment about the economy applies.
There are tourists, occasionally. There is tat about. But people live here; Grey Lynnishly, for the tenements of the working class have been gentrified into the apartments of the trendsetters and tastemakers.
Somewhere in the next square must be lunch. It is one of two requirements of a plaza in Spain, and here is the other. Plucked guitar strings tremolo off the flagstones and cornices. It is not for the visitor.
After his tune, the old man and his dog stroll home. He hasn't troubled to take off his beret, let alone pass it around. The barman brings me a cana, the glass of beer I've needed since I said goodbye to Columbus, and the sandwich.
A middle-aged couple in Armani and Zara, loaves and wine under arms, whistle to their friends on the second floor as they arrive for Sunday lunch, instead of bothering the apartment buzzer. A young couple lug an elegantly oversized marble planter home. The traffic is dangerous: young men speeding through the square on their pushbikes.
Time to move on, with a subtle reminder that I'm not in Spain, I'm in Catalunya. To a carefully (to his ear, painfully) enunciated, "Muchas gracias, adios," comes the barman's gruff: "De res. Adeu."
Bypass the Cathedral and Placa Reial, the outdoor tables of the touristically redefined enclave known as the Barri Gotic, packed with Americans excitedly exclaiming, "I just went into this little shop and, you know, they didn't speak any English at all," eating that foreign food called tapas from Seville for which no Barceloni would dream of giving up his solid three courses of lunch.
I plunge further north. The alleys are narrower. People are fewer. Windows are shuttered, doors are barred and bars are dark, because local bars should always be dark.
Here in Sant Pere, beyond bustling and hustling Santa Caterina food market, are still family owned businesses and shops: that little bookstore might be Carlos Ruiz Zafon's Cemetery of Forgotten Books. Second thought, no: that's a couple of hundred metres across Las Ramblas in El Raval.
This is a poorer area that sees few tourists - apart from the economic migrants who have landed here, as their forebears did centuries ago, from around the Mediterranean. To a cooler welcome: city authorities are trying to "redevelop" the district.
Like the rest of Ciutat Vella, the squares and the roads are named after those earlier arrivals who made their livings in the old city. Street of the Ropemakers. The Butchers. The Bakers. I look up for the carved marble street sign on the corner of this lane. Carrer des Assaonadors. Well, some guidebooks still warn tourists to be careful wandering these parts. Today, the only suspicious character is a middle-aged Kiwi with a camera around his neck, scribbling in his notebook.


Barcelona Checklist
GETTING THERE: Singapore Airlines flies to Barcelona five times a week via Singapore, departing from Auckland and Christchurch. Insight vacations offers a number of escorted gold luxury, regional and discovery tours including Barcelona. Iinsight's 11-day Northern Spain escorted regional tour is priced from $3250 per person twin share (land only) and also takes in Madrid, Santiago de Compostela, Ovieda and San Sebastian. Highlights in Barcelona include a local guided tour of the city. Departure dates between April and October. Contact your travel agent or visit insightvacations.com
• Ewan McDonald flew to Barcelona with Singapore Airlines and Insight Vacations.