Geoff Cumming samples the hearty peasant fare of Portugal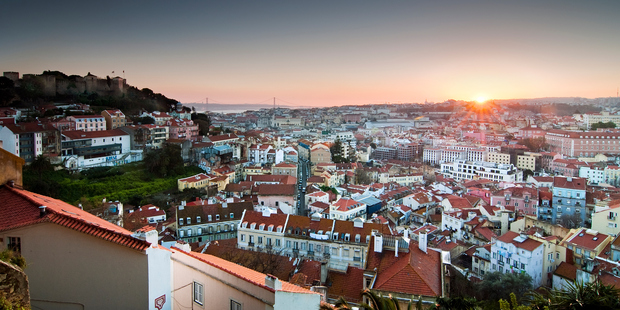 An army marches on its stomach - and the reverence for food and wine in the Alentejo helps explain why the Portuguese, with a few exceptions, held on to their corner of Europe for so long.
Locals eschew fast food outlets for old-fashioned diners serving peasant fare, where often humble ingredients are raised to great heights through slow cooking and subtle use of herbs and spices. It's a cuisine which takes what's locally available - pork, chicken, bread, eggs - and adds ingredients introduced by Arabs or Jews or brought home by traders in the days of empire. Coriander, oregano, pennyroyal, cinnamon and wine play important roles in lifting peasant fare into something special.
"Coriander, garlic and bread are the basis of Alentejo food," says Joao Ferriera, a foodie who took us to dinner in an unpretentious tasca in Borba. "Add tomato and you have a meal."
Meat (served in generous portions) is important but Portuguese cooks know how to make a little go along way. My first meal, Migas Alentejanas, didn't sound too flash: a pile of pork bones and crumbly fried sausage on a stuffing of bread.
But the herbs in the bread countered the meatiness and it was certainly nourishing.
Bread appears ahead of rice or potato as the carbohydrate in many dishes. It's used in a thin but flavoursome soup of tomato, onion and olive oil with a poached egg thrown in. Cured meats are served roasted, fried or added to casseroles as well as eaten cold with bread and cheeses.
Desserts are unashamedly sweet - pastries and cakes with almond and cinnamon - ingredients to sustain the most humble households.
But I found the stars of Alentejo cooking to be the lightly-spiced, slow-cooked casseroles which mix seafood and meat. A favourite was arroz de polvo com gambas - a fragrant casserole of octopus and prawns in wine and garlic, sometimes with pork or beef added.
Though food in the most basic cafes is nourishing and delicious, it is lifted to culinary heights in innovative restaurants, and not just in Lisbon. At Mr Pickwick's in Evora, our degustation menu was surf and turf heaven: Cataplana - a casserole of clams, prawns, mussels, pork and cod in wine, garlic and coriander; hare and white beans; pork with clams, pork marinated in red pepper, red wine and honey; lamb and clams with rosemary sauce, cod and dogfish stew.
Host Goncalo Linhan explains that mixing meat and fish is an Alentejo tradition, stemming from proximity to the fishing villages of the Algarve to the south. "In Algarve, they have clams en masse. In the old days they were sent to the interior, where we have pork. So they mix them - that's the Alentejo style."
But in Lisbon, they are turning tradition on its head at Can the Can, a cafe where (almost) everything comes from a can including sardines, anchovies, mackerel and mushrooms. But the mackerel comes on a sweet potato puree, sardines are served with courgettes, and smoked trout comes with cheddar and portobello mushrooms.
Even high-end hotels in resorts like Cascais - used to catering for narrow-minded Americans and Brits - stake their dining reputations on traditional Portuguese ingredients given a twist by innovative chefs.
• Geoff Cumming travelled courtesy of Emirates.