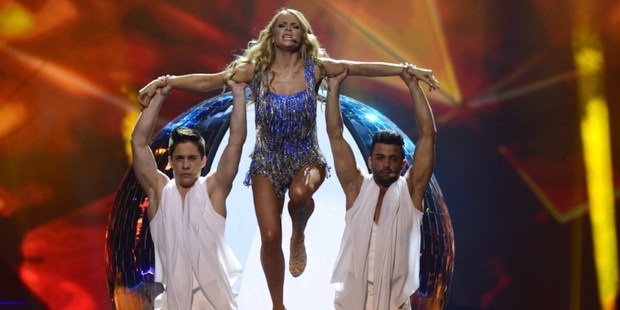 The Eurovision Song Contest returned to Sweden Saturday with pageantry fit for an Olympic ceremony, as flag bearers entered on stage to a special hymn by pop icon ABBA's song-writing duo.
"Welcome to Sweden and my hometown Malmoe," Zlatan Ibrahimovic, the Paris Saint-Germain striker and Sweden star, said in a video clip opening the event.
Hostess Petre Mede wore a pink dress by French designer Jean-Paul Gaultier as she greeted an audience of 11,000 in an arena in Sweden's third largest city.
Iconic disco band ABBA are widely viewed as the ultimate Eurovision group, having turned their 1974 Waterloo win into one of the most successful pop careers of all time.
ABBA's Benny Andersson and Bjoern Ulvaeus penned their special Eurovision anthem with Swedish DJ and producer Avicii.
Fans from around Europe have descended on Malmoe to watch 26 countries compete in the annual kitsch extravaganza Europeans love to mock, but which remains hugely popular.
With an estimated 125 million viewers, Eurovision is a bigger broadcasting event than US football's Super Bowl.
However, the continent's cultural differences have come to the fore this year after show rehearsals in socially liberal Sweden showed not one but two gay kisses.
Turkish observers said that may have been the reason for public broadcaster TRT dropping the event earlier this week.
TRT cited low ratings as the reason for the cancellation, as Turkey hasn't fielded a Eurovision candidate this year.
During rehearsals on Friday, two male Swedish folk dancers were seen kissing each other as part of an intermission act.
Finland's Krista Siegfrids was expected to do the same with one of her female dancers on Saturday when singing gay marriage anthem "Marry Me."
This year's more bizarre entries include a Ukrainian giant and the falsetto disco of Romania's Cezar, who wears a vampire-like outfit.
Denmark is the bookies' favourite to win the singing contest though Russia, Norway and Ukraine are also tipped to do well.
To help arriving fans get into the Eurovision spirit, Malmoe's main train station was on Saturday decked out with disco balls and a small dance floor.
Wearing a sequined Union Jack dress, 27-year-old Ellie Scull from Gloucester in Britain said Eurovision was "comedy, and it's very international."
"It's nice to see different countries' style of music," added her friend Georgina Hamblin, 26, from London.
Neither believed Britain would win this year, with Scull describing the British entry as "rubbish" while Hamblin said she believed politics played a part in the scoring system.
"It's a bit political. People just vote for the countries next to them," she said.
If the bookmakers' predictions are anything to go by, next year's contest will move just 8km across the Oeresund bridge to Denmark, the home country of Emmelie De Forest.
"I'm flattered people think I will win. I try not to think about it too much," the 20-year-old singer of "Only Teardrops" said at a joint press conference with Sweden's Loreen on Friday.
Welsh balladeer Bonnie Tyler is the biggest name to participate this year, but despite being backed by star songwriter Desmond Child, the 61-year-old isn't expected to nab the top spot.
Several countries in austerity-hit Europe, including Poland and Bosnia-Herzegovina, have opted out of this year's event.
Greece initially said it wouldn't be able to take part, but reversed its decision after a private broadcaster stepped in to finance the production of the country's national final.
With their song Alcohol Is Free, Koza Mostra and Agathon Iakovidis will use metaphors to describe Greece's suffering during the economic crisis that has threatened to sink its economy.
Viewers and professional juries in 39 countries will pick the winner together, with tele-voting and juries each representing 50 per cent of the outcome.
Sweden has pledged to scale back the annual music competition after costs soared in recent years, vowing to stage a sparkling show for a fraction of what last year's host Azerbaijan spent.
Some estimates put the price tag for regenerating last year's host city Baku at one billion dollars (780 million euros). By comparison, Swedish organisers have a budget of 125 million kronor (14.5 million euros, $18.7 million.)
- AFP