This compact city-state stands aloof from its bigger neighbours. Adrian Mourby takes a tour.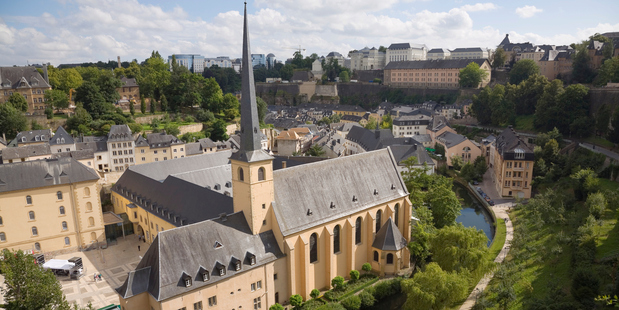 The Grand Duchy of Luxembourg marks its National Day next month, on 23 June - and this city-state is proud to be a nation in its own right. Luxembourg is an anomaly, a tiny corner of Europe that somehow managed not to get absorbed by its bigger neighbours. During the 19th century, France, Germany, and Belgium took more than bite-sized chunks out of it, but still it stands, a proud and almost inexplicably independent entity.
Begin your stroll in leafy Place Guillaume II, slap bang in the middle of the historic centre, which will host concerts during next month's Summer in the City Festival (21 June-14 July).
A monastery stood here until French Revolutionaries took it over. When Napoleon arrived he gifted this long rectangle of rubble to the citizens and in due course they created a public square named after William II, who as well as being grand duke of Luxembourg was king of Holland. An equestrian statue stands at the east end of the square, testament to the reverence with which he is held.
An aide to the Duke of Wellington at Waterloo, he ruled from 1840-49 and made the wise decision to stay in Holland and pretty much let Luxembourg get on with running itself.
Turn south down Rue du Fosse and right into Uewerstad to find the plain Gothic faade of Notre-Dame Cathedral. This was originally the Jesuits' church in Luxembourg but is now the focus for grand ducal marriages. Note the imposing royal balcony that is no longer used. The current duke, Henri, prefers to sit with his people.
Exit through the small western door and emerge on Boulevard F D Roosevelt, one of a number of streets that commemorates the American liberators of 1944. Immediately to the right is the sober Renaissance-style Bibliothque Nationale which used to be the Jesuit seminary.
Turn left and left again up Rue de la Congregation to enter the pedestrian area that links a number of medieval refugios that were built for monasteries, some as far away as Trier in Germany. In the event of siege or attack the monks could decamp to the fortified city of Luxembourg with all their valuables. Nowadays these stately townhouses are government ministries. Number 4 Place de l'Europe retains its medieval tower and is now the Ministre d'Etat, the office of the prime minister, Jean-Claude Juncker.
Turning downhill past the Chamber of Deputies, you come to one of the most attractive areas of old Luxembourg and a good place to stop for a snack or cup of coffee. Flowerpots festoon the entrance to Ilt Gastronomique, a block of restaurants hollowed out of an old fortified house known as Am Tiirmschen. Inside you'll find Michelin-starred Le Bouquet Garni , Come Prima and Goethe Stuff. Duck under the passage that runs beneath this building and you're into a little yard with even more places to eat and "Mir wlle bleiwe wat mir sin'' ("We want to remain what we are''), painted in gothic script beneath one of the bay windows. This has long been the motto of independent Luxembourg.
As you enter Rue Sigefroi, note St Michael's Church on your right and the National Museum of Art (free Thursdays, closed Monday) immediately opposite. This glass and stone box is one of the few modern buildings in the historic centre. Level 3 contains paintings from the 13th to 20th centuries. There's a watercolour of the city by Turner here and a castle drawing by Victor Hugo.
By contrast, St Michael's Church, prettier inside than out, dates back to the 10th century when it was built as a chapel for the counts of Luxembourg. Follow Rue Sigefroi down to Monte de Clausen, a road that links the city to Count Sigefroi's castle on the narrow Bock promontory. Although the castle was demolished in the 19th century, you can still see its superb defensive position on top of 48m cliffs that drop down to the Alzette river. If you now look back at the city you can see remnants of the mighty walls that made Luxembourg so difficult to subdue. It's staggering to think that only 10 per cent of the fortifications remain. In the end it was to stop the French and Germans going to war over this valuable fortress city that the Treaty of London guaranteed Luxembourg's independence in 1867 at the price of dismantling most of its defences.
Before turning back into the city look across the Alzette Valley to where Kirchberg is rising up fast. Luxembourgers call Kirchberg "Our Manhattan''. For defensive reasons this plateau was not built on until 1963. The skyscrapers contrast dramatically with the historic city: the future of independent Luxembourg.
- INDEPENDENT