Levy on private depositors will help foot the nation's debt rescue bill of almost $16 billion.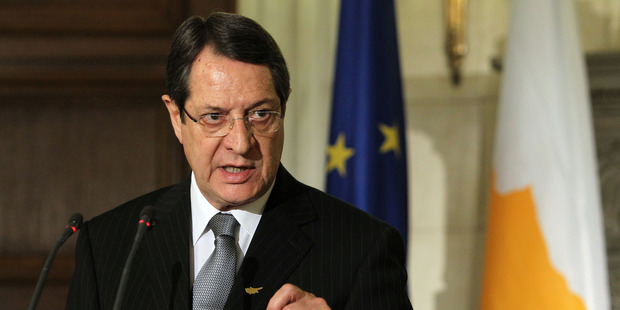 The Cyprus Parliament held an extraordinary session as the debt-laden Government seeks to push through legislation on a painful European Union €10 billion ($15.8 billion) bailout.
The session was held amid anger among bank savers who would be hard-hit by the plans.
The debt rescue package, agreed with the eurozone and International Monetary Fund on Saturday after around 10 hours of talks in Brussels, is significantly less than the €17 billion Cyprus had initially sought.
Most of the balance is to be made up through a bank deposit levy of up to 9.9 per cent - the first eurozone bailout in which private depositors are having to help foot the bill.
President Nicos Anastasiades briefed MPs last night, with a tough ride for the draft expected at a full plenum this morning, Cypriot media said.
Ministers are in a race to thrash out draft legislation ratifying the bailout and push it through Parliament before banks reopen tomorrow night NZT after a long holiday weekend, including a pre-Easter carnival today marred by the news.
Yesterday, the president already had meetings lined up with party leaders and the island's bank bosses.
Faced with protest calls, the president said he would address the country to defend the controversial deal which he admitted was "painful" but insisted was the only way to save the banking sector from total collapse.
He said thousands of small businesses would also have gone bankrupt because of cash flow problems without the deal and the unprecedented bank levy attached for an EU bailout.
Savers in Cyprus banks reacted with shock and anger after the Government agreed to the levy on bank deposits in return for the bailout money.
The Government had held out against the bailout condition until the 11th hour, arguing it would risk a run not only on the island's own banks but also on those of other debt-ridden eurozone economies.
Only days before, Finance Minister Michalis Sarris said a tax on deposits in local banks would be "disastrous for Cyprus and the eurozone".
Opposition leader George Lillikas has called on his supporters to protest on Wednesday, charging that the president, who was elected only last month, had "betrayed the people's vote".
Even the conservative leader's partners in the ruling coalition had strong words against the deal.
"During our meeting it was stressed that the decision was ... almost annihilating the Cypriot economy," said Marios Garoyian, after chairing a meeting of his centrist DIKO party.
The Bank of Cyprus, the island's largest lender, said it was "absolutely understandable and justified for public opinion to be concerned".
The levy will see deposits of more than €100,000 ($158,000) held by all residents of Cyprus hit with a 9.9 per cent charge when lenders reopen their doors. Below that threshold, the levy drops to 6.75 per cent.
It will apply to everyone from pensioners to Russian oligarchs and tens of thousands of British expats.
At the same time, an additional "withholding tax" will be imposed on interest on bank deposits, and Cyprus will have to hike corporate tax to 12.5 per cent from 10 per cent and sell off state assets.
The bailout deal prompted some to queue up outside banks to withdraw cash from ATMs.
But analyst Sony Kapoor cautioned that there was no point, tweeting: "Dear Cyprus bank depositors, the time to line outside ur banks was last week, no point now."
A flood of angry comments flowed on the internet.
"The Cyprus deal is exactly why I don't keep money in the bank anymore. Brussels can commandeer your cash. Just like that," one person wrote on Twitter.
Co-operative bank branches, which, unlike the main lenders, usually open for business on Saturdays, kept their doors closed as their systems were shut down, officials said.
One furious customer reportedly parked his digger outside one such branch in the seaside resort of Limassol, claiming the Government had "tricked" him into believing deposits were safe.
Cyprus - which accounts for just 0.2 per cent of the combined eurozone economy - is the fifth country to secure a debt rescue package from its eurozone partners in the three-year debt crisis.
Bank deposit levy
9.9 per cent
Above €100,000 ($158,000)
6.75 per cent
Below €100,000
-AFP
The Cyprus crisis
How can they do that?
Cyprus, like any country, can raise or lower taxes whenever it wants. It isn't the first time that a eurozone nation has raised taxes to cope with mounting debt and to prop up struggling banks. Residents of Greece, Portugal and Ireland have seen their tax bills skyrocket in recent years as those countries tried to reduce their debts. But Cyprus is charting new ground here, and there could be legal and political challenges.
How exactly will it work?
Banks have already acted to seal off the amount of the levy so depositors can't access it. Bank customers can still draw on the rest of their funds via ATM machines this weekend. No international transfers will be able to go through until tomorrow night, since today is a holiday. Cyprus' Parliament was meeting to pass the required legislation. The deal also needs the approval of several eurozone parliaments; it's unclear how fast they can act and what will happen to bank deposits in the meantime.
Has this ever happened before?
So far in the euro crisis, depositors have been protected. But European countries have taxed bank deposits before. In the 1990s, Italy levied a tax on every bank account to stave off the collapse of its lire currency. The rate, however, was minuscule - 0.6 per cent - compared to what Cyprus is enacting. Iceland has also relied on depositors to prop up its banks. When the crisis hit there in 2008, Iceland protected its domestic deposits but reneged on deposit insurance for overseas, internet-based accounts held by British and Dutch. Those two governments stepped in to help their citizens to the tune of US$5 billion. The UK and the Netherlands sued Iceland unsuccessfully in a European court to get their money back, but Iceland has nevertheless started to repay some of that money. European officials are promising Cyprus is a unique case, and they are right in one aspect: Cypriot banks are overwhelmingly funded by deposits, not bondholders. So going after bondholders did not yield that much money.
Who is affected?
All people with money in Cypriot banks except those with money in Greek branches, which will be sold to Greek banks. EU and IMF creditors wanted to protect Greece, but perhaps also saw that Greece is the most likely place in the eurozone for a bank run. Of the approximately €68 billion ($107 billion) on deposit in Cypriot banks, foreigners hold about 40 per cent and most of those are Russians.
Cyprus could have only gone after non-EU depositors, but it may have been hard to distinguish between Cypriot and Russian savers, said Jacob Kirkegaard, senior fellow at the Peterson Institute for International Economics in Washington, because many Russians have dual citizenship. Kirkegaard said Cypriots may welcome this measure since the government just managed to widen its tax base to include a lot of Russians; the taxes levied in Greece, Portugal and Ireland were for residents alone to shoulder.
Why did Cyprus need a bailout?
Cyprus built its economy in recent years by becoming a financial centre. Its banks offered internet accounts to foreigners, were renowned for their service and provided substantial privacy to clients all in a country with low taxes. It worked so well that Cyprus' banking industry ballooned to nearly eight times the country's gross domestic product at the height of the boom. In December, it was still more than seven times Cyprus' €17.5 billion GDP.
But Cyprus' banks held a lot of Greek debt and suffered significant losses when they took a write-down of those bonds. Much of Cyprus' bailout money will be used to recapitalise Cypriot banks. Cyprus has also seen its deficit and debt explode as growth has ground to a halt. And with the banking system so large, the Government wouldn't have been able to bail it out even in a healthy economy.
What will the reaction be tomorrow?
Cyprus may be on holiday today, but the rest of the world will go back to work. Kirkegaard says that the decision to tax depositors indicates that the European Central Bank is confident that the risk of a bank run elsewhere in the eurozone is low and by excluding Greek branches of Cypriot banks, they have reduced the possibility even further. Bond markets may react a little since bondholders were also tapped. Bank stocks will probably fall and they'll see their borrowing costs rise since this deal signals that other eurozone countries may call on bondholders if their banks run into trouble.
But Heather Conley, director of the Europe programme for the Centre for Strategic and International Studies, says it's hard to know the far-reaching implications of this one-off deal. The "exceptions" created to solve Europe's debt crisis are adding up, she said. And some investors may look at this late-night, three-day-weekend deal and see what she saw: a dress rehearsal for a country dropping out of the euro.
- Sarah DiLorenzo, AP