According to NASA, the Northern Lights are currently at their most powerful in 50 years, with activity peaking until March 2013.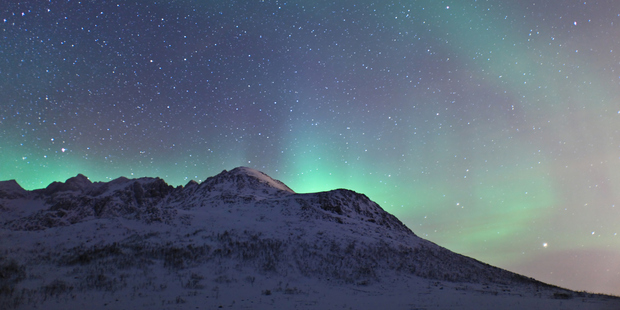 There are numerous scientific explanations for the enigmatic aurora borealis, more commonly known as the Northern Lights, but Lapland's Sami people have their own understanding.
"My grandma would tell stories about a fox racing across the hills to reach home,'' says Markku, a Finnish photographer who chases the lights on nightly safaris.
"He moved so quickly, it looked like his tail was on fire, blazing across the sky.''
Markku, whose family run the cosy Wilderness Hotel in northern Finnish village Nellim, which sits above the Arctic Circle, claims his hometown is one of the best places to observe the Earth's greatest light display.
He boasts of seeing the aurora 240 days a year - 24-hour daylight hampers the remaining 125 - and says at times the lights have been so powerful they've caused electricity to stop working in the village.
Low horizons and a lack of light pollution certainly provide favourable conditions for the lights, while the nearby pine forest-fringed Lake Inari is an attractive setting for budding photographers.
Intrigued, I book a four-day stay at the hotel through The Aurora Zone, who specialise in small-group Northern Lights holidays to Finland, Sweden, Norway and Iceland.
A round, friendly Finn, with a torchlight strapped to his forehead and laden down with camera equipment, Markku briefs us before our first expedition and whets our appetite with stories of his favourite sightings.
He recalls returning home at age 12 from a disco and witnessing a burning whirlpool overhead. It moved so quickly, he feared it might actually gobble him up. Such activity, known as a corona, is an aurora-hunter's holy grail, often occurring after a night of intense activity. Sightings are rare but, as Markku enthusiastically points out, not impossible.
Seduced by swirling images and colourful stories, we head out, driving along icy roads into the forest. Rows of tall, thin pine trees stretch into infinity, standing to attention like obedient sentinels guarding the nearby Russian border.
We stop and set up our camera tripods on a bridge crossing Lake Inari, which is only just beginning to freeze. If the lights do turn up, we'll be treated to a dazzling display of reflections.
But there's still one vital element missing - a star. To see the lights, we need a clear sky.
We sit and wait, as the temperature drops below zero. But after two hours, all we have for our trouble is a faint glimmer picked up by our camera sensors. Disappointed, we head to a campfire to warm up.
Ever the optimist, Markku tries to reassure us. "Don't worry, I have a 100 per cent success rate with guests. I'm not about to break that now,'' he promises.
In reality, there's no guarantee for seeing the aurora. A number of websites chart solar activity and offer predictions, and there's even a phone app that allegedly sends alerts when the lights are playing ball. None are particularly reliable.
Trips aren't cheap and it's a long way to travel, but one way to get the most out of a holiday is to combine nightly aurora safaris with daytime activities.
Options at the Wilderness Hotel include forest walks and boat rides to one of the 3000 islands in Lake Inari, or snowmobiling and ice fishing in winter.
Lotta, a laid-back tomboy with a devious sense of humour, leads us on a trek through the forest, collecting lingonberries to make a sauce for tonight's dinner: reindeer meat with creamy mashed potato.
The sun hangs low, casting long shadows across the forest floor. A sprinkling of snow covers the tundra like icing sugar, and jagged ice crystals are already starting to form on the lake.
After reaching the top of a hill, we search for wood to build a campfire and barbecue sausages. Lotta pulls out an axe and starts to chop a trunk already blown over by the wind.
The sense of space is overwhelming; for kilometres only the tips of trees are touching the sky.
There are only 150 residents in Nellim, most earning their trade as reindeer herders. But don't ever ask a local how many reindeer they own; it's a social faux pas tantamount to quizzing a city worker about the size of his pay packet.
There's no village centre as such, although a simple, wooden Orthodox church buried in the woods provides a meeting point for the community.
Locals tend to be either lively and eccentric or shy and sombre, and an above-average number of men appear to have beards.
It's our final night at the Wilderness Hotel, and after three evenings of lukewarm activity, Markku is determined to find the show we were all expecting.
Wearing insulated body suits and snow boots borrowed from the hotel, we set off determined to stay out all night if we have to.
But we don't have to wait long for a star; the sky is peppered with silver flecks, some falling like burning embers.
At midnight, a band of green light sweeps gently across the horizon like a blade of grass swaying in the wind.
Over the next few hours, the lights grow in intensity. By 4am, my feet are frozen numb and a layer of thin ice has formed on the back of my jacket. But my patience is finally rewarded.
Dancing across the horizon like a neon ribbon trailed by a rhythmic gymnast, the aurora has woken up. Playful, flirtatious and unpredictable, she's much more seductive than I imagined.
I could stay here for hours. Markku spends every night searching for the lights and claims he's never seen the same show twice.
The lights have been a triumph but the appeal of Nellim is actually far greater. This is a true wilderness, where space and silence are luxuries to be cherished.
Along with a handful of humans, only reindeer, bears, wolves and lynx reside here - along with a fox, still racing nightly across the sky.
IF YOU GO:
STAYING THERE: The Aurora Zone runs an `Autumn Lights over Lake Inari' small-group tour each October and November.
TIME TO GO: Between October and March, when Northern Lights activity is high.
DON'T MISS: A boat ride or snowmobile safari across Lake Inari.
NEED TO KNOW: Don't venture into forest across the Russian border; you'll be heavily fined.
DON'T FORGET: A tripod; essential is you plan to photograph the lights.
- AAP