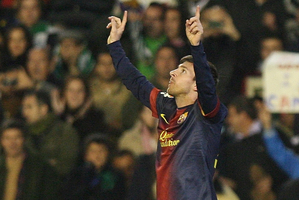 Barcelona's star Argentine striker Lionel Messi has pledged to stay with the Spanish giants until June 2018 by renewing his contract, the club says.
Barcelona, who are leading the league by nine points, have also agreed contract renewals with Spain internationals and long-time club stalwarts Carles Puyol and Xavi Hernandez.
The club said an agreement had been agreed with Messi, 25, whose present contract expires in 2016, and that he would sign his new deal "in the coming weeks".
Veteran defender and captain Puyol, 34, and midfielder Xavi, 32 - one of the heroes of Spain's Euro victory this year - have each signed up to stay until 2016.
"This news means FC Barcelona has secured its ties with three of its most important players," the club said.
Barcelona are 13 points clear of rivals, title holders Real Madrid, at the top of the Spanish league, and nine points ahead of second-placed Atletico Madrid, whom they beat 4-1 last weekend. The Catalan giants are unbeaten this season with 15 wins and one draw.
"It is very satisfying for the board to extend a successful project by renewing Xavi, Puyol and Messi," Toni Freixa said for the club.
"They are three basic pillars of the best Barcelona team in history. It was very necessary to keep our main elements tied to the club."
Puyol, who like Messi and Xavi is a graduate of Barca's youth training academy, has soldiered on despite injuries that have forced him to spend weeks on the bench this year.
Messi, who has been at the club since 2004, is the top scorer in the league with 25 goals this season, ahead of Atletico's Radamel Falcao who has 17, and Real's Cristiano Ronaldo on 14.
The Argentine recently broke Gerd Mueller's 40-year record for the most goals in a calendar year.
Mueller scored 85 in 1972 and Messi has scored 90 this year.
Messi is also Barca's highest scorer in the club's history.
The Argentine is in the running for a fourth Ballon D'Or, world player-of-the-year award this year, alongside his Barcelona teammate Andres Iniesta and his La Liga rival Ronaldo.
- AFP