Cameron set to defy House on Leveson's call for legislation.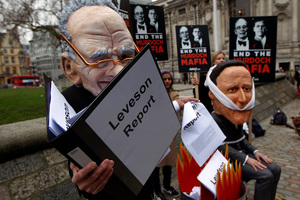 An eight-month inquiry prompted by "outrageous" behaviour by sections of the British press has called for new laws to underpin a tougher watchdog in a verdict that sets up Prime Minister David Cameron for a bruising political battle.
Lord Justice Brian Leveson, who led the inquiry sparked by the phone-hacking scandal at Rupert Murdoch's News of the World tabloid, recommended an independent self-regulatory body backed by legislation.
Leveson's 2000-page report said the British newspaper industry had for decades "wreaked havoc with the lives of innocent people" and "acted as if its own code, which it wrote, simply did not exist".
He said while the press served the country "very well for the vast majority of the time", its behaviour "at times, can only be described as outrageous".
Cameron set up the inquiry in July last year following revelations that the News of the World had hacked the voicemails of murdered schoolgirl Milly Dowler as well as dozens of public figures.
Murdoch was forced to shut down the 168-year-old newspaper over the scandal, which grew to engulf senior figures in politics, the police and Murdoch's wider media empire.
Leveson said a new watchdog would have independent members, except for one editor. It would have the power to fine offenders up to £1 million ($1.95 million) and to order publication of apologies and corrections.
Those powers would be backed by new laws, he said. He summed up his plans as "independent regulation of the press organised by the press, with a statutory verification process".
Leveson also criticised the relationship between the press, police and politicians, which he said was "too close". Contacts between them should be recorded, he said.
Cameron welcomed Leveson's proposal for a new regulator and said "the status quo is not an option".
But he had "serious concerns and misgivings" about any statutory change, setting him at odds with not only his junior coalition partners, the Liberal Democrats, but also the Labour Opposition and many hacking victims.
"I believe that we should be wary of any legislation that has the potential to infringe free speech and a free press," Cameron told the House of Commons.
"We will have crossed the Rubicon of writing elements of press regulation into the law of the land ... In this House, which has been a bulwark of democracy for centuries, we should think very, very carefully before crossing this line."
He called on the much criticised British press to show it could control itself by implementing the judge's proposals quickly and without political involvement.
"I'm proud of the fact that we've managed to survive hundreds of years without state regulation," he said.
Over the eight months of hearings, the Leveson Inquiry heard from victims of press intrusion including actors and celebrities, as well as politicians, journalists, police and newspaper executives.
Their testimony revealed embarrassing text messages from Cameron to Murdoch newspaper executive Rebekah Brooks, left a minister fighting for his career, and shone a light on the sometimes murky workings of the British establishment.
Police have arrested dozens of people under three linked probes into alleged crimes by newspapers.
Leveson insisted that politicians and government should play no role in regulating the press, which should be done by a new body with much stronger powers than the current Press Complaints Commission.
But the judge said it was "essential that there should be legislation to underpin the independent self-regulatory system".
He said the new body should be composed of members of the public including former journalists and academics but no more than one serving editor, and no politicians. It should have the power to rule on complaints, demand prominent corrections in newspapers and to levy fines, though it would have no power to prevent material being published.
Membership would be voluntary, but newspapers would be en- couraged to join in part to stave off expensive lawsuits; the regulator would handle complaints that currently end up in court.
Several senior police officers resigned over the failure to aggressively pursue an investigation of phone hacking at the News of the World in 2007.
But Leveson said that "the inquiry has not unearthed extensive evidence of police corruption".
Outrage peaked last year when it was revealed that the paper had eavesdropped on the mobile phone voicemails of slain schoolgirl Milly Dowler while police were searching for the 13-year-old.
Murdoch shut down the 168-year-old newspaper in July last year. His UK newspaper company, News International, has paid millions in damages to dozens of hacking victims, and faces dozens more lawsuits from celebrities, politicians, athletes and crime victims whose voicemails were hacked in the paper's quest for scoops.
Leveson said over the past three decades, political parties "have had or developed too close a relationship with the press in a way which has not been in the public interest".
Those relationships reached right up to the Prime Minister's door. Former Murdoch editors and journalists charged with phone hacking, police bribery or other wrongdoing include Cameron's former spokesman, Andy Coulson, and ex-News of the World editor Brooks, a friend of Cameron.
Brooks, the former head of Murdoch's British newspaper wing News International, and Coulson both appeared in court yesterday on bribery charges, just hours ahead of the report's publication.
Leveson acquitted senior politicians of wrongdoing, but recommended that political parties publish statements "setting out, for the public, an explanation of the approach they propose to take as a matter of party policy in conducting relationships with the press".
Cameron, who is tainted by his own ties to prominent figures in the scandal, said he accepted that proposal.
But politicians remained far apart on the broader issue of how, or whether, to regulate the press.
Deputy Prime Minister Nick Clegg, leader of coalition partner the Liberal Democrats, differed from Cameron in backing the call for a new regulator established in law.
"We owe it to the victims of these scandals, who have already waited too long for us to do the right thing," he said.
Leveson's £163;4 million inquiry heard evidence from more than 300 witnesses during months of hearings that provided a dramatic, sometimes comic and often poignant window on the workings of the media.
Witnesses ranged from celebrities such as Harry Potter author J.K. Rowling and Hugh Grant, who both complained of intrusive treatment, to the parents of Milly Dowler, who described how learning that their daughter's voicemail had been accessed had given them false hope she was alive.
Leveson said the ongoing criminal investigation constrained him from accusing other newspapers of illegal behaviour, but concluded there was a subculture of unethical behaviour "within some parts of some titles".
While many editors have denied knowing about phone hacking, Leveson said it "was far more than a covert, secret activity, known to nobody save one or two practitioners of the 'dark arts"'.
He said newspapers had been guilty of "recklessness in prioritising sensational stories almost irrespective of the harm the stories may cause.
"In each case, the impact has been real and, in some cases, devastating."
Critics of the tabloid press generally backed Leveson's findings.
"I welcome Lord Leveson's report and hope it will mark the start of a new era for our press in which it treats those in the news responsibly, with care and consideration," said Kate McCann, who was the subject of intense press interest after her 3-year-old daughter, Madeleine, disappeared during a holiday in Portugal in 2007.
Brian Cathcart of Hacked Off, which campaigns for victims of press intrusion, said Leveson had produced "a workable, proportionate and reasonable solution to the problems of press abuse'.' He said Cameron's "failure to accept the full recommendations of the report is unfortunate and regrettable".
- AFP, AP