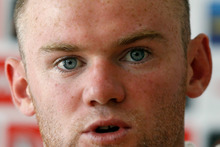 Before going to sleep on the eve of facing Ukraine tomorrow, Wayne Rooney will visualise himself playing against the team and scoring goals.
He will check beforehand with the kitman what colours both teams are wearing in order to give these visions an authentic detail and then he will allow his mind to drift forward to the game at the Donbass Arena.
It was not an approach suggested to him by a sports psychologist or a guru of the motivational variety. It is a process, he says, he conceived of himself.
Rooney first revealed his visualisation routine a month ago and it gave an interesting insight into the mind of a player who most assume works on pure instinct.
Tomorrow he makes his long-anticipated return from suspension to go straight back into the England team for their final, crucial Euro 2012 group D game against Ukraine.
Someone joked yesterday that on this occasion, Rooney had been afforded more time than usual to think about this match, and he could see the funny side of that too.
The big man is back in town, as Rooney said when he returned to the England 2006 World Cup team hotel in Germany after a visit to a specialist in which he got the all-clear on his metatarsal fracture.
"I don't think I could say that now that Andy Carroll's in the squad," Rooney joked yesterday. But the sentiment hangs in the air. He is undoubtedly England's big man, the marquee name, the game-changer.
He has not scored at a major international tournament since Euro 2004. What kind of player will turn up tomorrow in Donetsk?
There is so much expected of Rooney, even though to see the man yesterday in Krakow you would be hard-pressed to know it. Rooney insists he does not feel the pressure.
"Sometimes it might look like that," he says. "But I don't think 'I have to try too hard' to make us win.
"I set myself high standards. I work hard to better my game and score goals. In international tournaments I haven't been good enough. I hope I can put it right."
Since the red card in the final Euro 2012 qualifier against Montenegro in October that earned him the suspension, Rooney has been booked once for Manchester United.
He is still not sure what he was doing lashing out at Miodrag Dzudovic.
"To be honest, I've been asked a few times about what happened with that red card," he said. "Even now, I honestly can't explain it.
"It's similar to the one in 2006 in the World Cup [against Portugal]. It happened. It's not something I set out to do. I didn't think: 'Right, I'm going to kick this player'.
"It happened. I understood straight away it was a mistake, a red card, and I had to take my punishment.
"I've no complaints with the ban. I'm just happy now I'm finally available to play."
But the visualisation process he goes through before matches speaks of a player in control of his destiny.
"I have done it all my career since getting in the Everton team, really," Rooney says.
"I don't know why but I have always asked the kitmen what colour kit we are wearing, found out what colour the opponents are wearing and visualised scoring goals or good things happening in the game.
"I always do before every game, get good thoughts, good moments happening in the head. Hopefully that can help me.
"I do it the night before games, when I'm in bed, it's quite difficult getting to sleep. I'm excited as well."
Rooney has said his abiding memory about the game against France at Euro 2004 was the feeling of exhilaration that, at 18 years old, he was playing against Zinedine Zidane.
He was too modest to mention the moment he dragged the ball back with alternate feet, swivelling through 180 degrees to get away from the France captain. "At 18 you probably don't know the game as well as you think you do, so you're playing on instinct a lot of the time.
"There's a rawness about you and a lot of players don't really know that much about you. I think the older you get, you have to change the game and you see things differently.
"I've tried to do that and it's paid off at club level but not so much at international level."
The eight-year anniversary of Rooney's two goals against Croatia, his last in a tournament for England, falls on Thursday, but he hopes by then there will have been more.
He remains, he says, "a confident person and not one to shy away from games ... that won't change".
At the World Cup of 2006, he was injured and in 2010 he was out of form. This time Rooney says it will be different. He said yesterday that he would "feel" his way into tomorrow's game and keep it simple until he felt ready.
It is a sensible plan, but one cannot help thinking that when Rooney lies down to visualise the match over the next few hours, he will find it hard to imagine playing with the handbrake on. Independent
By Sam Wallace