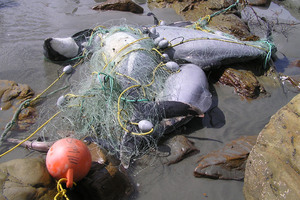 Environment:
55
Only 55 maui's dolphins over one year of age remain.
70,000
The number of people who made submissions supporting better protection for the dolphins.
2
New Zealand will become only the second country ever to cause the extinction of a dolphin since China lost the Yangtze River dolphin.
100
The International Whaling Commission and the World Conservation Congress advised NZ to ban gill nets and trawling throughout its habitat out to 100 meters depth.
The Government's most recent proposal has been roundly criticised for failing to provide adequate protection.?DOC is asking for public feedback on the proposal - visit tinyurl.com/pr2uu7v to send a prepared submission to add your voice to the call for decent protection for Maui's dolphin.
Like what you see? For weekly Element news sign up to our newsletter.
We're also on facebook and Twitter.