Poor attitudes and risky behaviour of rock fishers continue but number donning safety gear well up on 2006.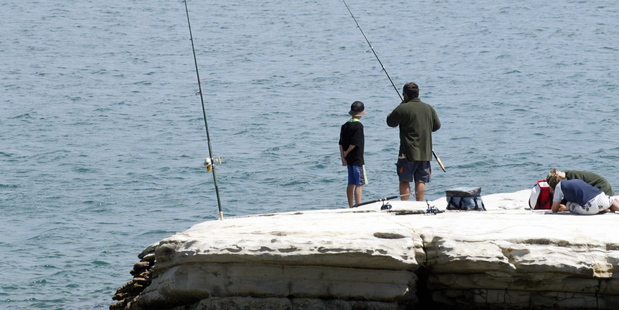 A multi-language campaign to get West Auckland rock fishers to wear lifejackets is struggling to make headway against an undercurrent of unsafe attitudes and risky behaviour.
The campaign to change behaviour began in October 2005.
It was a response to five drownings in four months after fishers were swept off rocks by large waves.
Since 2006, there have been six drownings, including one over the past summer at Flat Rock, Muriwai, when a fisher slipped and fell into the sea.
WaterSafe Auckland business manager Teresa Stanley said two lives were saved by flotation devices called angel rings.
These were installed at 13 high-risk spots with land owners' permission as part of the safety campaign run by WaterSafe Auckland, Auckland Council and Surf Life Saving Northern Region.
For the past two summers, a paid lifeguard had visited remote spots which had been inaccessible to the safety advisers who warn fishers in their native language.
A survey of 117 fishers showed some still had entrenched unsafe attitudes and risky behaviours.
"However, the number who say they wore lifejackets was 38 per cent, which is up from only 4 per cent in our 2006 survey when the project started. It is really encouraging to see that people are changing behaviour and accepting the requirement and the benefit from wearing lifejackets.
"If fishers see other fishers with lifejackets on, it becomes the normal thing to do when you go fishing."
WaterSafe Auckland is also trying to raise awareness of the danger of drowning while gathering shellfish and netting, with Pacific communities.
The last summer survey of rock fishers showed 14 per cent were Pasifika men and 60 per cent Asian.
About 79 per cent of them had fished at the interview spot fewer than six times - suggesting they did not have an extensive knowledge of the hazards.
Risky business
High-risk West Auckland fishing spots:
* Muriwai (Flat Rock)
* Piha (The Gap and Dawsons Ledge)
* Karekare
* Bethells (including O'Neills Bay)
* Anawhata (and Whites Beach)
* Whatipu ( including Paratutai Island and Nine Pin Rock).