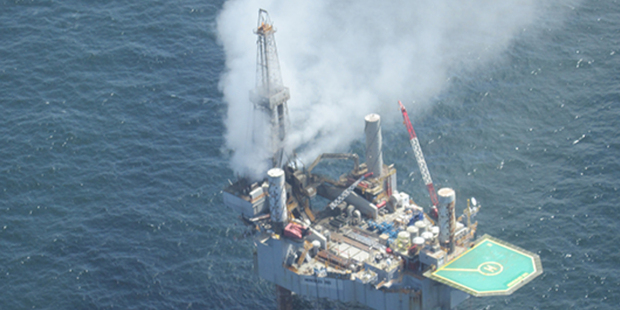 As a Kiwi who has recently returned to New Zealand after more than a decade in Australia, Asia and Eastern Europe as an energy company executive (Shell, Chevron, BHP Billiton), I have found Kiwi opposition to further exploration in this country slightly mystifying, and lacking common sense.
I wonder if New Zealand has developed a sort of head-in-the-sand culture of opposition to any economic activity involving the e-word (environment). The view seems to be: "We drive our cars to work, and we cook with gas, but we hate those dastardly people who develop our energy resources." Huh?
While I appreciate the environmental lobby's concerns about the environmental risks which exploration poses, the chances of mishap are minuscule. Sure, BP had one. The Gulf of Mexico Deepwater Horizon spill of 2010 was an appalling tragedy but, as the White House Commission concluded, fault lay firmly at the feet of the company's own safety breaches and a cost-cutting regime gone mad (and unchecked).
In reality, the energy multinationals ("big oil") are obsessed with safety and consumed with environmental jurisprudence.
Energy companies tread cautiously down the green pathway. They listen carefully. Shell listened to environmental opposition to its plans to build a pipeline through a sacred whale breeding ground in the Okhotsk Sea, off the coast of Eastern Russia. The pipeline was duly redirected.
Closer to home, on the coast of Western Australia, Chevron is building a $55 billion gas plant on Barrow Island, a World Heritage-listed, Class A Nature Reserve. Chevron's Gorgon Project has probably appointed more greenies, tree huggers and safety obsessives to manage that project than there are across Australia's entire NGO and environmental spectrum. I should know, I was one of them.
Due to the strict governmental caveats placed on that project, and the personal commitments of its project partners (Shell, Chevron, ExxonMobil and three Japanese utilities), Barrow Island's native flora and fauna is being protected and preserved.
Indeed, without the project, Australia would have lost a multitude of native species to extinction. At Gorgon, wallabies and contractors work side by side - shoulder to furry shoulder.
If New Zealanders want to understand what a big energy project can do, look to the many-headed Gorgon. It will deliver $30 billion to Australian goods and services, 10,000 jobs, and $40 billion to government revenues. Imagine what a project like that would do for New Zealand. People in work, opening businesses, buying goods.
If you want to know why the global financial crisis bypassed Australia, it's because of the country's rich resource base and its people's embracement of big energy projects.
Big projects protect people (and the environment). They deliver to communities and build infrastructure (schools, roads, hospitals, sporting amenities and parks).
Dr Wayne Cartwright was correct when he wrote in these pages last Wednesday that future oil and gas exploration will be high-cost. That's because the easy strikes are over. New energy resources are harder to reach. Yes, new extraction technologies like fracking are the name of the game. In Texas, I've seen fracking first hand. I've drunk the water from the well. Are there risks? About as many as being mauled by a Texas Longhorn steer.
Why is the public worried about big energy investment? Energy companies and the Government will work in tandem to make the investment, and unleash the potential. Environmental assurances will be made and adhered to. The country can sit back and reap the rewards.
Last week, in Auckland's High St, a pleasant young woman called May Lee stopped me and asked if I would sign a petition opposing further energy exploration in New Zealand.
I paused, looked at my watch, then put my bag down.
I explained that I could not do that because I had worked in the industry and I knew how fundamental energy company investment was to economies and people.
I also explained how dedicated the industry was to ensuring that the environment was safeguarded.
I reeled off a few anecdotes. We talked about whales and polar bears.
At the end of the conversation, May Lee thanked me for stopping. "I had not heard that before," she said.
"It is so nice to hear the other side."
I drove my car home. I cooked with gas that night.
Antonios Papaspiropoulos is an Auckland public relations consultant.