Poll shows 70 per cent back sanctions regarding deep sea rigs or ships looking for oil and gas.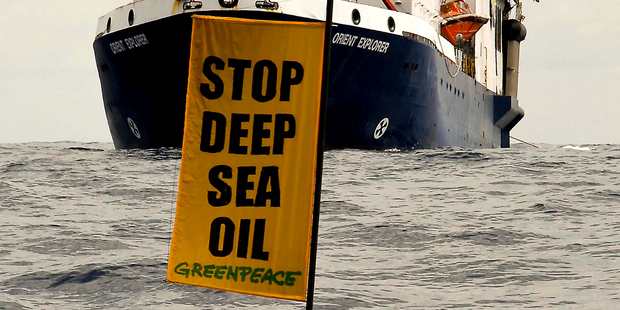 Nearly three in four New Zealanders support a law change to restrict protest near deep-sea drilling rigs or ships exploring for oil and gas, a Herald-DigiPoll survey has found.
The Defence Force now has powers to arrest and detain anti-mining protesters and impose stiff penalties if the protesters intentionally interfere with or damage mining sites or vessels within New Zealand waters.
The sanctions prompted heated debate in the House when they were rushed into law in May, and sparked a campaign of opposition led by high-profile figures including former Prime Minister Sir Geoffrey Palmer.
But the DigiPoll suggested the public overwhelmingly backed the bill. Asked which statement best fitted their view on the law change, 69.6 per cent of respondents agreed it was a good law because it allowed people to protest but at a safe distance. Only 24.2 per cent of respondents agreed it was bad law because it eroded democratic freedoms.
Energy Minister Simon Bridges said it was a "very reassuring" poll.
"It just reaffirms to me the difference between beltway politics, where things can appear very controversial but in fact in a wider New Zealand sense aren't necessarily as contentious."
He said the poll showed New Zealanders wanted companies to be able to pursue their mining interests safely and without interference.
Opposition MPs challenged the purpose of the law change and the lack of transparency in introducing it.
It was a last-minute addition to the Crown Minerals Bill and was not put out for public consultation.
Green MP Gareth Hughes said Government had used safety as a smoke-screen to "hide the fact this is a law requested by the oil industry and breaches human rights".
The Labour Party revealed the amendment came after Mr Bridges and Economic Development Minister Steven Joyce met separately with petroleum giant Shell, which had complained about the absence of legal options to block protest.
Mr Bridges said the issue of deep-sea protests was not raised at his meeting with Shell in February.
Labour Party energy spokeswoman Moana Mackey predicted public opinion would shift when the first person to protest deep-sea drilling or oil exploration was arrested.
"If people agree with it, fine, but that doesn't make it good law. The fact is, this law banned peaceful protesting."
The law change stemmed from an incident in April 2011 when a protest flotilla led by an East Cape iwi interfered with Brazilian company Petrobras' seismic surveys in the Raukumara Basin and Petrobras had to halt its surveys for nearly two days.