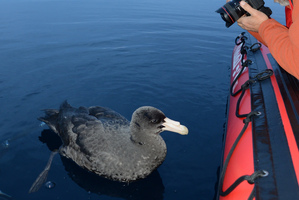 A giant petrel taken back to sea after being rescued on a west coast beach was in no hurry to test its freedom - the bird hung around the release boat for two hours before finally deciding to fly away.
Robyn Webb, of the Whangarei Native Bird Recovery Centre, said the bird was first seen on Baylys Beach on Sunday. When it was still there on Monday a local resident, concerned it could be hurt by cars, people or dogs, took it to the centre where it was found to be uninjured but most likely exhausted.
Petrels normally live on Sub-Antarctic islands but this week's arrival may have been blown off course by recent strong southerly winds. After a few days' rest and feeding the petrel was making it clear he wanted to check out, so Mrs Webb called orca expert Ingrid Visser to arrange a ride out to sea.
Dr Visser and volunteers from the Orca Research Trust took the bird to the Poor Knights Islands, off the Tutukaka Coast, by inflatable boat. Despite the petrel's insistence on leaving its brooding box in Whangarei it was in no hurry to leave its new human friends, staying near the boat and entertaining itself with the volunteers' camera gear for two hours.
"I've seen these birds down in Antarctica and have always been impressed by them, so I was honoured to be able to help return one to the wild," Dr Visser said.
For more articles from this region, go to Northern Advocate