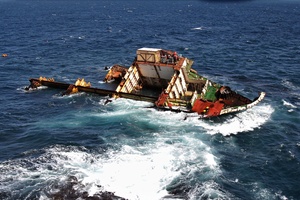 Six containers of pollutants remain to be emptied by divers working on the fast-disappearing hulk of the Rena.
Maritime New Zealand spokesman Reece Golding said 1200 tonnes of debris from the wreck remained to be recovered, together with 200 to 300 tonnes of the front section of the Rena stuck on Astrolabe Reef.
His briefing to the Tauranga City Council yesterday focussed on dismantling the front section stuck on the reef so that it ended up 1m below low tide, and emptying the last of the containers that hold cargo of "potential concern".
The containers were in the submerged stern section of the Rena that had slid down the reef.
Three containers held ferro-silicon, two held the small plastic beads that had washed up on shore during last month's storm, and one held copper.
Mr Golding said it was "fairly precarious" work for the divers clearing these containers because the stern section of the hull was on a 55 degree angle.
Divers were submerging 19m to reach the containers holding the plastic beads and had to cut away a fair bit of the ship to reach them. The work included removing containers that held hundreds of trampolines and even a house-lot of furniture.
An even bigger challenge would be the container holding the copper which was in a hold 30m below the surface.
"That is quite challenging in terms of diving."
Mr Golding said they were also taking samples to identify aluminium fluoride from the cryolite that was believed to be under about 500 tonnes of debris spread out over a hectare-sized field.
A total of 279 of the 337 unrecovered containers were in the aft (rear) section of the wreck or lay unidentified in the debris field. A further 58 had been located on the seabed, in the debris field or remained on the front section of the wreck.
Beca consultant Keith Frentz said that based on 1300 autopsies of sea birds, there was no evidence any had died from swallowing the plastic beads.
The ship's owner and insurers were assessing the impact of leaving the stern section on the reef and could apply for resource consent later this year.
For more articles from this region, go to Bay of Plenty Times