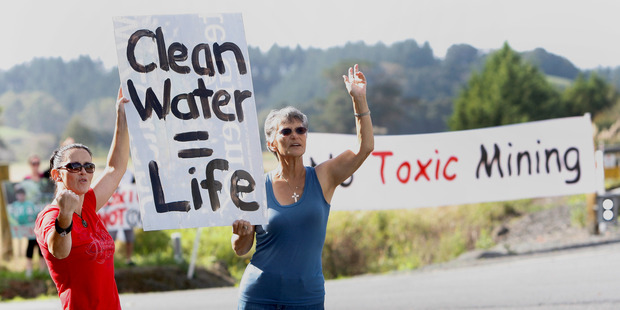 Protesters have turned out in Northland to voice concerns at the potential health risks associated with mining in Puhipuhi.
Puhipuhi Mining Action Group, Nga Kaumatua Kaitiaki o Ngati Hau, Minewatch Northland and other supporters protested on the corner of State Highway 1 and Puhipuhi Rd, 30km north of Whangarei yesterday. It is likely the roadside campaign will continue through the week.
PMAG convenor Jenny Kirk said the group and local iwi Ngati Hau had an ongoing strategy to raise public awareness about the dangers mining poses. High on that list is the area's complex underground aquifers being broken into by drilling.
Puhipuhi mountain holds Northland's biggest gold and silver deposits, encased in mercury-laden rock. Australian exploration firm De Grey Mining says the work required just to determine Northland's mining potential will boost the economy, with opportunities for local contractors. Last year, the Government transferred a gold and silver exploration licence over Puhipuhi, with the largest known gold deposit in Northland, from Newmont to De Grey Mining Ltd.
De Grey said the Government's support, the "low risk" country and good infrastructure made the Puhipuhi acquisition an excellent addition to its portfolio.
"Puhipuhi is an excellent advanced greenfields epithermal system with defined and untested drill targets," De Grey executive chairman Peter Batten said.
However, Ms Kirk raised health concerns.
"Mercury is spread throughout the rocks and soils. It's very poisonous, and it causes really nasty diseases. These range from birth defects in infants to painful early death in adults and mental illnesses," Ms Kirk said.
"Local people talk about their older relatives who developed Minamata disease from mercury poisoning when the now disused mercury mine was functioning."
De Grey Mining had said it wouldn't discharge into surface waters but that it would drill into groundwaters, Ms Kirk said.
"There are no guarantees contamination won't happen. This could lead to mercury dissolving into groundwaters which come to the surface as springs all around Puhipuhi that local people rely on for their personal drinking water, the healing springs and for farming purposes."
For more articles from this region, go to Northern Advocate