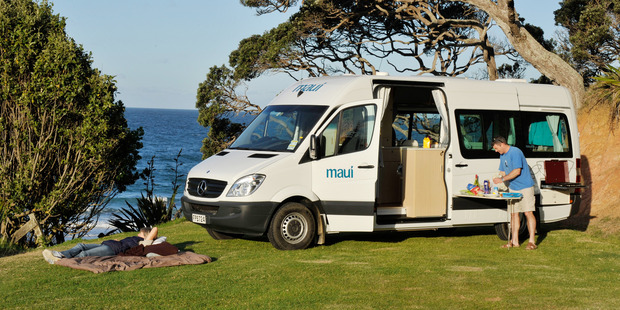 The Westland District Council has backed down from its freedom camping bylaw, bowing to legal pressure from the powerful New Zealand Motor Caravan Association (NZMCA).
In January, the lobby group filed papers to the High Court in an attempt to have the bylaw struck out.
Yesterday, the council announced it would review the bylaw and immediately stop enforcing it throughout the district.
Mayor Maureen Pugh said the legal challenge would have cost the council up to $50,000 to defend in court, and that was not seen as the best use of ratepayers' funds.
The bylaw, which came in to force in November, banned campers from staying overnight on all council-owned reserves, public land and roads within 1km of all towns and settlements in Westland. However, it had no effect over state highways or land managed by the Department of Conservation, which remained open to freedom camping.
Mrs Pugh said the backdown was a practical one and did not mean the council wanted freedom campers sleeping in the streets.
The national Freedom Camping Act was "virtually un-enforceable" in Westland given that it did not apply across the whole district, particularly in those areas where the main problems were found, she said.
"The large number of cars, stationwagons and sleepervans being used for camping has meant that our roadsides are virtually open sewers, and there is nothing we can do to control that. It has been particularly offensive during the recent spell of hot dry weather."
Mrs Pugh said she would wait for the outcome of any other challenges the NZMCA would bring to other councils before contemplating whether it would be worth pursuing a change to the law.
Meanwhile, the NZMCA is trumpeting the council's backdown as an "important" victory.
General manager Bruce Lochore said the Westland decision was a victory for its members.
"This is a win for us and for the motor caravan community. We are very pleased with this result."
He said the bylaw was "illegal and unreasonable" for a number of reasons, including that the areas covered were not appropriately defined, there was no proper assessment of the necessity of the bylaw, it was not the best way to address the perceived problem and it limited the right to freedom of movement.
Mr Lochore said the key priority of the NZMCA was to protect and provide for its members.
"Workable bylaws strike the proper balance between protecting local authority areas and respecting the rights of responsible freedom campers. We are looking forward to working with the Westland District Council to find a solution that works."
The NZMCA would now be in touch with other councils about the impact of the legal action and would be looking to engage those whose freedom camping bylaws were unlawful and not "up to scratch".
The council has not yet set a timeframe for the review process.
- The Hokitika Guardian