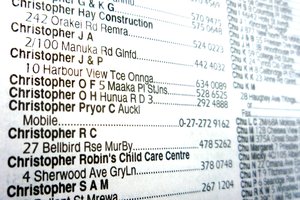 For the first time, Aucklanders will this year have to request a copy of the White Pages telephone directory.
The decision came after 75 per cent of Aucklanders wanted the chance to "opt in", according to a survey conducted by Nielsen and commissioned by Yellow.
Every year, about 6.5 million phone books are distributed around New Zealand.
Research from Nielsen in 2010 found only 41 per cent of people aged 15 and over used the White Pages.
The pilot is being run just in Auckland this year, and the company is watching the reaction before deciding whether it will be rolled out nation-wide.
Yellow chief Chris Armistead said the way people connected was evolving, and they are changing how they search for information.
The number of Aucklanders using White Online who traditionally used the Residential or Business books has increased 8 per cent in the past year.
And now 41 per cent of Aucklanders who use White Pages search online.
Mr Armistead said he also expected there to be environmental benefits from the Auckland opt-in pilot. For example, if only 30 per cent of Aucklanders chose to get the White Pages book this year, that would save around 770 tonnes of paper and 32 truck trips from Masterton to Auckland for distribution.
Yesterday, the Green Party welcomed the opt-in system and said it was great news for the environment and for people who "don't read, need or want a phone book".
The Greens' information and communications technology spokesman, Gareth Hughes, said NZ was one of the few countries where it is compulsory to deliver phone books to households that don't even want them.
"Moving to a more sensible option for the White Pages is a great start but the same choice should also be extended for the Yellow Pages commercial directory. Making phone book delivery optional is a smart decision," he said.
Yellow is under contract to provide White Pages directories to New Zealand homes under the Telecommunications Service Obligation, a historic agreement between Telecom and the Crown.
The opt-in pilot was agreed with the Ministry of Business, Innovation and Employment, which oversees the obligation.