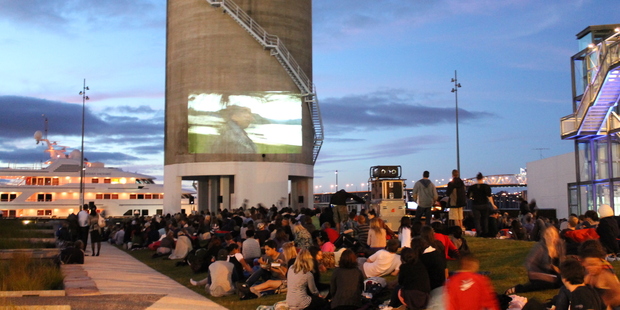 The team at Waterfront Auckland have hit the eco nail on the head when it comes to promoting sustainability in a public space. Their re-development of the Wynyard Quarter and a vibrant events schedule has finally created something that Aucklanders can be proud of on their waterfront.
Having grown up in Wellington, I intimately know how successful a waterfront can be for a city and this was something I missed in Auckland, until recently.
Pardon me if I have offended the guys that frequent the Viaduct Harbour with pointy shoes, tight jeans and questionable shirts. This new space does a fantastic job of encouraging design and behaviour that is good for the environment without forcing it down peoples' throats or making them feel conscious about what they are wearing.
Taking a stroll along the Wynyard Quarter, you can find out what's happening at the Karanga Kiosk - a clever structure made out of re-purposed shipping containers with a living roof that reduces the amount of rainwater entering the stormwater system by 75%.
From there, you can continue to the North Wharf - an excellent place to go for dinner - you can find an intimate bar with a living wall, which is in a building that harvests rainwater for toilet flushing and uses solar power to boost hot water.
After dinner, if you head down towards the Silo Park along Jellicoe Street, there is 600m2 of purpose built rain gardens. This is an unassumingly beautiful urban wetland which bio-retains rainwater from over 9,000m2 of the area, reducing contaminant and sediment discharge to the sea.
If you are lucky enough to be taking this stroll on a Friday evening or Saturday afternoon, then there will be a hive of wonderful activity down at the six pack - the old concrete silos at the far North end of the wharf. Excellent food vendors, musicians and themed events are run there (as well as an awesome garden bar for the adults), with the incredibly popular Silo Cinema, where they project a free outdoor movie onto one of the silos.
You will notice that there is very little rubbish on the ground at these events. This is the only market I have ever been to where the vendors are forced to use only compostable materials as a rule. This may seem draconian and a barrier to trade, but the opposite has happened - from small beginnings, these markets have become a regular not-to-miss fixture on Auckland's calendar.
Thousands attend each weekend from all walks of life and what I like is that - even if it achieved very subtly (which is probably why it works) - they are being educated on how to live more sustainably.