Wasted chances for rehabilitation inexcusable and could put us on par with China, writes Christine Rose.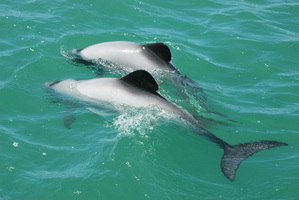 Our "clean, green" image will be made or destroyed, depending on how we respond to one key indicator - the extinction, or salvation, of Maui's dolphins.
Upon this sub-species, our international reputation may well depend. Indeed, the reality is starting to bite: New Zealand's status in international environmental indicators has fallen from first overall to 14th in the latest review of the Yale Environmental Index.
Everyone should know about Maui's dolphins. As an in-shore dolphin they can be seen from west coast beaches and harbours. They feature weekly in New Zealand media because of the risks they face, and the pressure on the New Zealand Government to give them better protection due to their low numbers. For this fact they've been in every newspaper from Beijing to Berlin. They're the world's smallest, rarest and loveliest marine dolphin, found only here in New Zealand, and there are, according to some recent studies, only 55 adults left in their core, reduced habitat.
Despite their dire state, scientists have shown that if human-induced threats, primarily gillnet fishing, are removed, Maui's dolphins could recover to a viable level of half their pre-1970s population, (1000 dolphins), by 2050. The North Island Maui's population also stands a much better chance of surviving if the "dolphin corridor" to the South Island is also protected, allowing their cousins, Hector's, to travel safely up the West Coast for breeding. The global and local marine science and conservation movement continues to await the Government's response to the state of Maui's dolphins.
At last year's International Union for the Conservation of Nature conference, New Zealand's were the only votes against protection of the dolphins through removal of gillnets within water 100m deep. The votes from 576 other governments and non-governmental organisations supported this protection.
Last year, more than 50 international and local conservation groups signed a letter to the Government imploring better care and protection for Maui's (and Hector's). More than 38,000 submissions were made to the Government's "Threat Management Plan" consultation document on options to manage human-caused risks to these little taonga. The Department of Conservation in conjunction with university researchers continues to produce documents showing how damning fishing practices and other activities such as seismic testing are.
We know more about Maui's and Hector's dolphins and the causes and rate of decline than for any other dolphin.
Clearly, there's no reason for ignorance. In full knowledge of the risks facing Maui's dolphins, and the opportunities for recovery, with the support of the national and international public, inaction is indefensible.
But we're still waiting for a Government response to the "emergency" review of the Threat Management Plan. Gillnetting continues to kill around five Maui's dolphins each year. Seismic testing is occurring in their habitat as we speak. Fishing regulations continue to be confusing, inadequate and unmonitored. Prospecting for large scale extraction of minerals from the seabed is under way in an area covering most of the west coast of the North Island, in the dolphin habitat.
Maui's dolphins can't sustain more than one human-induced death in 10-23 years if they are to survive. These deaths are easily avoidable through, ultimately, a will to put the sub-species before economic gain. But in saving these little dolphins, we'll also be saving our international reputation, and the market share that depends on our "clean, green" image being matched in reality.
The last country to see the extinction of a dolphin was China with the Yangtze River dolphin. The world condemned the inaction that led to that loss, despite the fact that as a developing country, China is not known for high environmental standards. The risks are even higher for a well-developed, mature market economy. Perhaps the problem is that the market is leading the debate, instead of science, ethics and public opinion. One thing is clear: New Zealand will soon match the environmental record of China.

Christine Rose is chair of Maui's & Hector's Dolphins Education/Action Inc, and a long time dolphin campaigner.