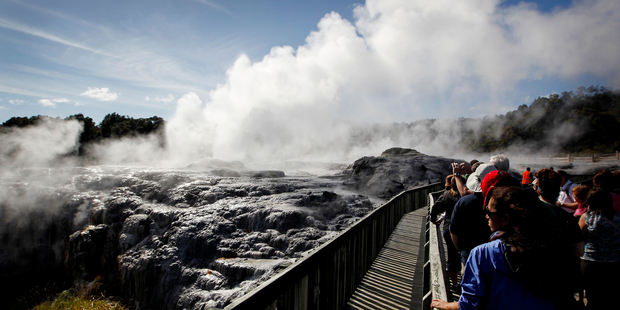 Restoration unveils boiling pools, bubbling mud and a once lively geyserAnew project to restore an iconic geothermal wonderland has uncovered some long-hidden treasures.
Boiling pools, bubbling mud and a geyser once famous for its lively displays have been unveiled after months of clearing scrub at Rotorua's Te Whakarewarewa Valley, with the promise of more to come.
The work by maintenance staff at Te Puia/New Zealand Maori Arts and Crafts Institute has opened up expansive views across the area's geothermal features.
Palisades in different parts of the valley, including some using trees from the Ruawahia peak on Mt Tarawera which were stripped bare by the eruption of 1886, have also been revealed.
Te Puia's visitor experience manager Taparoto Nicholson told the Herald that 30 years ago the valley was largely a bare geothermal field pocked with mud pools and crossed by rough walking tracks.
Part of a three-year programme, clearing work has already revealed views of the palisades, Te Puia's waka shelter, and uncovered Ngapuna Tokotura mud pools and the dormant Papakura Geyser.
The geyser, named after well-known guide Maggie Papakura and situated near the Ngararatuatara cooking pool, had been a major attraction in the valley until it cooled and ceased erupting in 1979.
"Simply by clearing away vegetation, we are changing the landscape," Mr Nicholson said. "It's a simple thing but it is already making a big difference and gradually making the valley once again look as it would have when tourists first started coming here more than 100 years ago."
There are plans to restore other areas of the valley after this summer's peak visitor season, including overgrown tracks in the southernmost part of the reserve.
The rediscoveries come as new signs of life in the valley's Waikite Geyser excite geologists. Once capable of spouting steam 20m into the air, a change in geothermal levels had indicated a possible reawakening after 40 years of silence.