Damaged limb of roadside pohutukawa in Piha is unsafe and will have to be removed, says parks manager.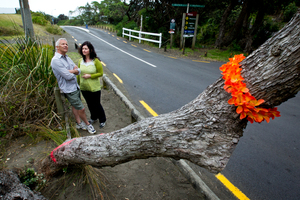 A handsaw attack on the limb of a pohutukawa tree obstructing a roadside walkway in Piha has ended a long, costly and spirited battle.
A 15cm-deep cut at the base of the limb, believed to have occurred last Thursday night, has made it a safety hazard and left the council with no option but to remove it in the next few days, Auckland Council parks manager Mark Bowater said.
The tree, which hangs over the walkway on Beach Valley Rd, has been described as the most expensive tree branch in Auckland by Deputy Mayor and Waitakere councillor Penny Hulse.
The council and Auckland Transport have spent $12,300 on resource consent fees on the tree in the past 18 months. Last week the Waitakere Ranges Local Board voted to spend $8000 to remove a section of wooden railing and install a speed hump to allow pedestrians to walk around the limb unobstructed.
Emotions have not run so high since the stoush over establishing a cafe in the west coast community, which has a long history of standing up for the natural environment.
The Protect Piha Heritage Society has been leading the fight to preserve the limb, which has its own Facebook page and 144 friends.
Spokeswoman Kath Dewar was disappointed by the vandalism, saying the debacle could have been avoided if Auckland Transport had talked to the community at the outset.
It was important now for Auckland Transport and the local board to develop a sensible strategy for conserving roadside trees in the Waitakere Ranges, she said.
Waitakere councillor, environmentalist and Piha resident Sandra Coney said on the Facebook page: "This tree has survived ocean gales, roads over its roots, but not some faceless vandal who will now go to ground and not own up."
Waitakere Ranges board member Mark Brickell, who has been photographed holding a chainsaw alongside the tree, yesterday swore he had nothing to do with the vandalism.
"I don't condone what has happened, but I understand the frustrations of the people driven to go to these lengths," he said.
Roger Galvin, who lives across the road from the tree, said all the hoo-ha and costs were out of proportion and the limb should go.
Warwick Buckton, who is looking to move back to Piha, could see no reason people could not walk around the tree. "That's part of Piha."
The council has laid a complaint with Waitakere police.