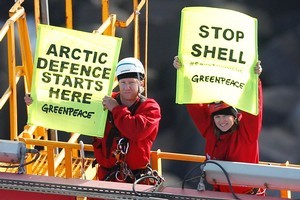 Last Friday, seven Greenpeace activists, including actor Lucy Lawless, entered Port Taranaki to occupy the drillship the Noble Discoverer as it was preparing to leave for the Arctic. The vessel has been contracted by oil giant Shell - the first major international oil company to re-focus on exploiting the Arctic as sea ice melt opens up new areas.

What followed can only be described as a global media storm, placing Shell's reckless and irresponsible programme to drill in the Arctic firmly under the international spotlight. The company's response has been uncharacteristically muted: perhaps they are struggling to justify how they propose to capitalise on the vulnerability of a shrinking and climate change-ravaged Arctic wilderness.

More interesting is the silence from the oil industry here in New Zealand, where Shell also has plans to open up the deep and hazardous waters of the Great South Basin. The usual fossil fuel apologists from the Petroleum Exploration and Production Association of New Zealand (PEPANZ), have been eerily absent from the debate.

Perhaps it is because they know that drilling in one of the world's most precious places simply cannot be justified. Perhaps they know that the committed Greenpeace activists who spent four days occupying the ship are right.

The Arctic, home to millions of Inuit people and a haven for some of the planet's most magnificent creatures, should be protected from oil exploration and preserved for all humanity.

As the era of easy-to-reach, cheap oil comes to an end, the stakes are rising.
Desperate to get their hands on the last drops of oil and under pressure from volatile price spikes, companies like Shell are pushing relentlessly into their final frontiers. And this means that the deep, pristine waters of New Zealand are now under threat.

The Government has placed oil, gas and mining centre stage of their programme for economic development, arguing that New Zealand can strike the right balance between economic gain and environmental responsibility.

Indeed, Shell is one of the major oil companies that are keen to take advantage of these favourable political overtures, announcing that they were to start exploratory work in the Great South Basin, off the south of the South Island, later this year. This, despite oil major Exxon already pulling out of the area due to the technical challenges of operating there.

Shell have naturally claimed that they have taken "unprecedented steps to pursue safe, environmentally responsible exploration" in the Arctic, as they have off the coast of New Zealand. Yet their oil spill response plan is, at times, laughable. Many of their response plans are untried and untested and some are just silly. For example, Shell plans to burn off oil as part of cleanup - yet we know that oil doesn't burn when there is a lot of ice around. And then there is the sausage dogs in fluro jackets - the dogs, apparently, would smell the oil beneath the ice ... not a joke, but, extraordinarily, a part of Shell's oil spill plan.

All of this begs the question of how relentlessly pushing into ever more hazardous and technically challenging regions like the Arctic, or our own sub-Antarctic waters, can be considered responsible.

The most important aspect of why Greenpeace has taken action against Shell's insane Arctic drilling plans must not be overlooked, and should be fundamental to any Government or corporate that has to make decisions about their role as stewards and stakeholders in the well-being of our planet. And that is the issue of climate change. This was brought home this week to all those who tuned into the final episode of David Attenborough's Frozen Planet, which concentrated on the effects of climate change on the poles.

For decades, Greenpeace has been campaigning for action to tackle the greatest threat that we all face, yet our political leaders are failing not only us, but the future of our children and grandchildren.

Each of those activists feel duty-bound to stand up and draw a line in the ice to demand action to move us to a cleaner, smarter way of powering our homes, our cars and our economies. The technologies exist - indeed we in New Zealand could be world leaders in providing some of these, such as those that utilise geothermal energy. Yet our politicians have put other corporate interests - such as those of the coal and oil industry, which only contribute to the problem of climate change - over scientific evidence and environmental protection.

Demanding an end to our dependence on oil is not economic sabotage, but economic emancipation. We know that ultimately we will need to embrace a clean energy economy, and must do so before we trash the last wildernesses of our only home and cook our planet.

That is why we must demand action from our governments to seize the opportunities that are emerging from this crisis and underpin our economy with the expertise, innovation and renewable natural resources that give us an economic advantage. And that's why we must challenge companies like Shell to become part of the solution, rather than being the problem.

How can we look our children in the eye and tell them that we did nothing less than the very best to protect their future?

* Nathan Argent is a Greenpeace NZ Climate Campaigner