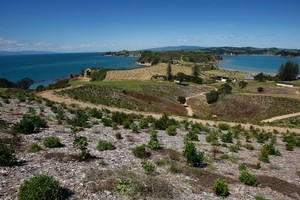 The $30 million-plus gift of the Hauraki Gulf island of Rotoroa is a tremendous example of how philanthropy can work in New Zealand, says General Motors' chief financial officer and Mt Albert Grammar old boy Chris Liddell.
Mr Liddell said he mentioned the gift by Neal and Annette Plowman to his former boss, Microsoft founder and philanthropist Bill Gates, about three weeks ago, who thought it was a fabulous concept.
Read more about the island here.
"It's a win for the city, it's a win for the people of New Zealand, it's a win for the Salvation Army," Mr Liddell said at Saturday's public opening of the former Salvation Army alcohol and drug addiction treatment centre.
Mr Liddell travelled from freezing temperatures at General Motors' headquarters in Detroit to attend the opening on a warm summer's day.
He is a member of the trust that has overseen the restoration of Rotoroa, an 82ha island east of Waiheke that has been turned into a conservation, heritage and arts destination after being closed to the public for 100 years.
The entire project has been funded by the Plowmans, who Mr Liddell has known professionally and personally for about 30 years.
The $30 million-plus gift surpasses the 2006 donation by retired farmers Pierre and Jackie Chatelanat of their $10 million Atiu Creek farm overlooking the Kaipara Harbour to the former Auckland Regional Council and is on the scale of American billionaire Julian Robertson's gift of 15 modern masterpieces worth $115 million to the Auckland Art Gallery.
In opening the island, Auckland Mayor Len Brown said the Plowmans were extending the great tradition of Auckland's founding father, Sir John Logan Campbell, who gifted Cornwall Park to the city.
"They are humble in the work that they do and shy with recognition," Mr Brown said of the Plowmans.
The Plowmans, who made their money through New Zealand Towel Services, have been reluctant to talk about the gift, except to say it was intended to give Aucklanders access to the island and continue the family's support of the Salvation Army and many wonderful Salvationists who had worked for his companies here and in Australia.
The Plowmans have also helped to establish a perpetual foundation for the Auckland City Mission and Auckland University Business School.
Salvation Army commander Don Bell also paid tribute to the "giving of others" to transform a sacred place that had changed the lives of so many people to a place where people could come and commune with the beauty of nature.
The Salvation Army has sold a 99-year lease to the trust, which has been paid upfront to provide extra and ongoing revenue for its work.
Mr Liddell, whose jobs have included head of Carter Holt Harvey and chief finance officer at Microsoft in Seattle, said that the concept of philanthropy was still developing in New Zealand.
New Zealanders, he said, were inherently generous but middle of the pack when it came to structured philanthropy.
"One of the things I like about what Neal and Annette are doing is developing concepts, and this one is the sort of thing that someone could replicate."
He believed that philanthropy was a simple but powerful concept that people should do while they were still alive, instead of leaving some money behind after they died.
"It's a fabulous thing to do as a person. It's not only the right thing, it's an enjoyable thing."
For more information, see rotoroa.org.nz