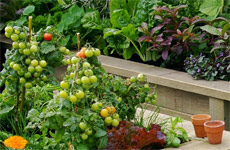 As food prices spiral and we become more aware of the nasties in processed foods, vegetable gardens are making a comeback.
And a Kiwi invention is ensuring that even those without the time or space for a big vegetable patch can enjoy the benefits of fresh veges.
As long as you have a small patch of grass or a patio area you could be picking your own fresh veges from your garden come summer.
Auckland businessman John Fowler created the DIY Garden - a system of shaped corner units that, when combined with timber sides and potting mix, becomes your very own mini-garden.
Make it as big or as small as you like, and you could even pick it up and take it with you when you move - making it the perfect solution for tenants.
Ideally it sits on top of grass so moisture can seep up into it. If it is used on a patio a weed mat could be used instead.
"The kids love it and it's great for them to be able to eat the veges they've planted and watched growing," said Mr Fowler.
"More people are thinking about eating better and growing their own veges and we think this makes it nice and easy for them to do it."
As an example, Mr Fowler said rocket lettuce was a good option for a DIY garden, because leaves could be picked and the rest left to grow.
Susie Longdell, editor of Weekend Gardener magazine, said the trend towards vegetable gardens was worldwide and had been gathering pace for the past two or three years.
She said people were increasingly aware of the pesticides used on food, "although they're nowhere near as horrendous as what we used years ago".
"I remember my mother used to use pesticides with arsenic, lead and nicotine in them and obviously we don't use those any more," Ms Longdell said.
She said the "green movement" was driving the popularity of vege gardens and they were trendy for the first time in years.
She recommended planting salad greens like rocket lettuce for "quick reward with very little effort".
Smaller gardens were ideal for involving children and there was no better way to save money, she said.
Green fingers guide:
Buying vegetable plants: Try to buy the correct varieties grown for planting each month in average conditions.
Soil preparation: Soil should be dug over properly and the addition of well-rotted compost is beneficial.
Fertilising: A good complete fertiliser added to your garden at preparation time is important.
Planting: Transplanting your plants correctly will save you time and money, giving your plants a head start.
Watering: The all-important must-do for all gardens.
Purchasing tips: For best results buy plants in cell packs - each plant in the punnet is in a separate cell. Just pop them out and pop them in, no root disturbance.
What to plant:
Vegetables that are planted in small spaces can be harvested when young and tender. The growing season is shorter and plants can be cycled through faster. For summer, plant baby cauliflowers, finger carrots, cherry tomatoes, spring onions and rocket lettuces.
- Tips from www.garden-nz.co.nz
By Brooke Donovan

Email

Brooke