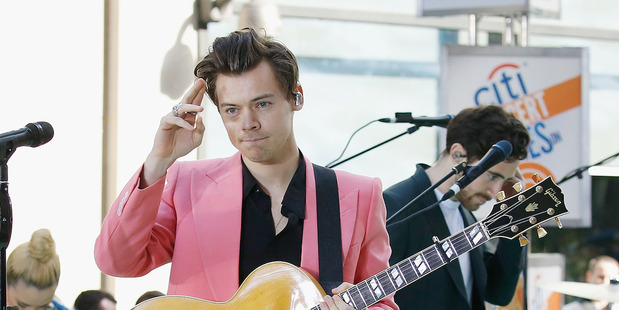 Whether you were a fan of One Direction or not, Harry Styles' debut single Sign of the Times came as a surprise. For those familiar with the band's sugary teen pop, it was unlike anything they'd ever heard from Harry and co. For everyone else, the surprise was just how good it was. A soaring power ballad for the modern age, with all the hallmarks of an instant classic.
Alas, the rest of Styles' self-titled debut doesn't quite live up to that bold statement. Instead, it's an inconsistent journey through various genres that does little to shed light on just who Styles is as either an artist or a human.
At its best - Sign of the Times, Carolina and Kiwi - Styles draws inspiration from a Best-of-British line up, channelling everyone from David Bowie and The Beatles, to the Rolling Stones and Blur. At its worst - Two Ghosts, Ever Since New York - he veers into Robbie Williams' territory of generic pop rock.
Whether he's wailing over the top of Kiwi's swaggering blues rock or softly crooning to the stripped back acoustics of From the Dining Table, Styles proves his vocal talents are genuine and diverse.
The same can't be said, however, for his songwriting, which seems to centre on one topic and one topic only - women. (One song is, in fact, simply called Woman.)
Every song appears to be based on a former hook up - girls that got away or from whom he ran away.
Which is perhaps where Styles reveals he's not quite as mature or removed from his One Direction days as he might like us to think. Far be it for me to slut-shame Mr Styles, but singing about your sexploits just isn't that deep.
Still, the future remains bright for Styles as a solo artist. He undoubtedly has the talent - he just needs to find some substance.
HARRY STYLES: Harry Styles
Label: Columbia
Verdict: Strong on style, short on substance
- TimeOut