Ukranian Eurovision Song Contest host Oleksandr Skichko urged competitors to "let it all hang out" during the competition.
But one attendee took his encouragement too far - by jumping on stage wearing little more than an Australian flag and a smile.
The streaker interrupted the mid-show performance by 2016 Eurovision victor Jamala, and managed to flash his backside to the world before a burly security guard wrestled him off stage.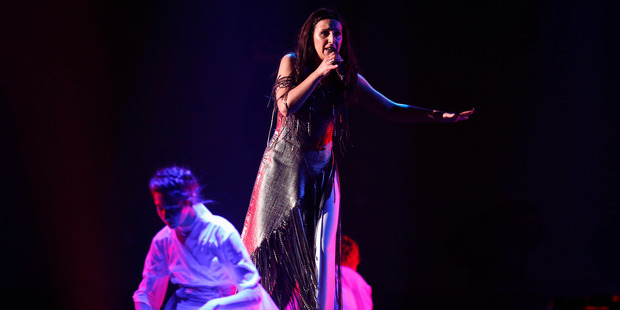 The invasion was commented on by UK presenter Graham Norton, who apologised for the nudity, before suggesting that viewers get "back to Jamala".
But the Aussie flag bearer didn't actually appear to be Australia. Multiple reports
suggested it was notorious Ukrainian prankster Vitalii Sediuk.
Eurovision streaker not an Australian but Ukrainian journalist

— Kathy McCabe (@McCabeRadar) May 13, 2017
Sediuk is known for harassing celebrities - including Brad Pitt and Kim Kardashian - during major events.
During a 2015 Louis Vuitton runway show in Paris, Sediuk snuck up on Miranda Kerr and kissed her on the cheek.
The event did not go unnoticed by the thousands of viewers who were tweeting along with the competition.
An unexpected naked ass. #eurovision #loveit

— Toni (@tonisommerfeld) May 13, 2017
STAGE INVASION!!! #EUROVISION

— Ryan (@rynwat) May 13, 2017
HAHAHA! Naked butt guy!!! #Eurovision

— Daisy (@TheDeeWhoLived) May 13, 2017
Haha wat is dit dan #streaker #Eurovision #esc2017 #Australië #metdebillenblood pic.twitter.com/O3i7kDEW8A

— Creative Alby (@albert10e) May 13, 2017
#Eurovision Australian mooner

Cheeky. Probably best performance of the night.

5/5

— Nick Calvert (@NickCalvert96) May 13, 2017
Australia have participated in the competition for three years, although the Europe-based competition has always been watched by millions of people in the country.
They were invited to compete in 2015 as part of the competition's 60th anniversary celebrations, but were allowed to return, even coming a close second to Ukraine during last year's contest.