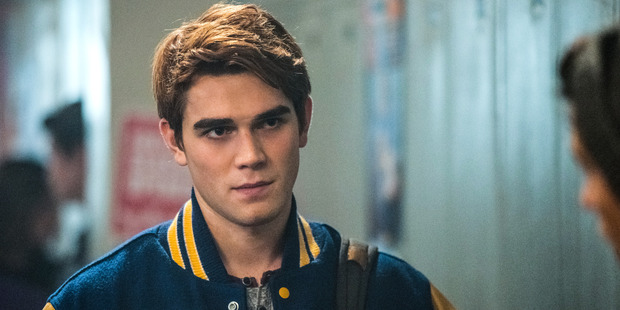 KJ Apa has come under fire after supporting a fat-shaming post on Instagram.
The Riverdale star didn't say anything offensive, but he did "like" an Instagram comment which read:
READ MORE:
• Richie and Gemma take the plunge
• Married at First Sight: Celebrity edition
"Making fun of fat people is the only thing that's gonna stop those useless bags of sh*t dying a fat early death."

Fans instantly flew into a frenzy commenting on all of his Instagram photos about the topic, with many demanding an explanation from the Kiwi star who is yet to comment publicly.
can u believe kj apa liked a fat shaming comment on instagram pic.twitter.com/dZusuJ5YF5

— georgia (@ubercvrrntz) April 27, 2017
One fan went so far as to call Apa "a disgrace to New Zealand", saying he gives Kiwis a bad name and adding: "I'm just mad that he is quite a big representative for our country and then he would do that."
Others simply wrote messages like: "So when are you gonna apologise for your fatphobia and misogyny??"
Fat shaming & treating women like objects?You're supposed to be a role model for teenagers.

Well done, @kj_apa.

— Isabelle (@IzziSjogren) April 27, 2017
While some shared personal stories about struggles with weight and fat shaming.
"I hope you realise KJ, I love you, but fat shaming is the reason my friend stopped eating," one fan wrote.
"She says she fine. But she's not. You know not eating can lead to things such as kidney failure. My little sister had that and trust me you wouldn't want to force it. Please be careful when you click things KJ. Please. I love you no matter what. I just want an explanation."
I think what hurt most was knowing how much I rooted for @kj_apa . I'm sure he didn't mean any malice but the fat shaming wasn't cool

— River Zain Ceballos (@RiverC_Official) April 30, 2017
However, some fans came to Apa's defence saying: "Let's let him speak for himself, please...everyone should calm down and be chill until he says what happened".
Another fan wrote: "You all swear like you're perfect and don't make mistakes, leave him alone and let him live his life how he chooses and if you don't like it then you're welcome to leave."
Apa is yet to comment.