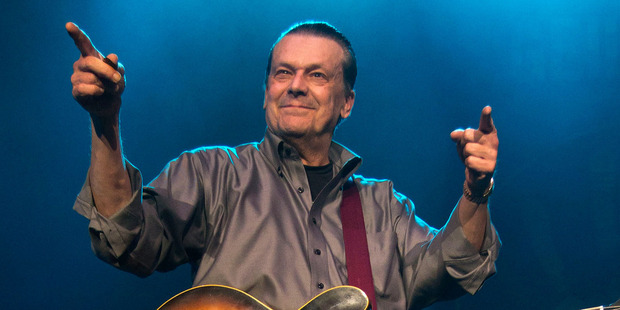 Musician J. Geils, founder of The J. Geils Band, known for such peppy early 80s pop hits as Freeze Frame and Centerfold, has died in his Massachusetts home. He was 71.
Groton police said officers went to Geils' home about 4pm on Tuesday for a well-being check and found him unresponsive. He was pronounced dead at the scene.
"A preliminary investigation indicates that Geils died of natural causes," police said.
The J. Geils Band was founded in 1967 in Worcester, Massachusetts, while Geils, whose full name was John Warren Geils jnr, was studying mechanical engineering at Worcester Polytechnic Institute. Geils was the band's guitarist. Bandmates included Danny Klein, Richard "Magic Dick" Salwitz, Stephen Jo Bladd, Peter Wolf and Seth Justman.
The band, whose music blended blues rock, R&B, soul and pop, released 11 studio albums and built a large following because of their energetic live shows, as well as their unusual use of the harmonica as a lead instrument.
The band broke up in 1985 but reunited off and on over the years.
The group had several Top 40 singles in the early 1970s, including a cover of Lookin' for a Love, originally by the family group The Valentinos, and Give It to Me.
Its biggest hits included Must of Got Lost, which reached No. 12 on Billboard's Top 100 in 1975, and Love Stinks, a humorous rant against unrequited love, the title song of the group's 1980 album. The song Centerfold, from the album Freeze Frame, was released in 1981 and eventually charted at No. 1 on the pop chart in February 1982. It stayed there for six weeks.
The band was nominated for the Rock and Roll Hall of Fame for the fourth time last autumn but once again was not selected.
"This is our fourth nomination, and going through that process, with its inherent disappointment, you're not sure you want to take that ride again," lead vocalist Wolf told Billboard at the time. "It's great to be recognised, but it's a drag to be disappointed. I hope that we make it in. That would be great."
When news of Geils' death broke, fans turned to social media to offer condolences and to reminisce about the band's songs and concerts.
Wolf wrote a short message on Facebook about his former bandmate, "Thinking of all the times we kicked it high and rocked down the house! R.I.P Jay Geils."
WCVB-TV in Boston reported Geils had called Groton his home for 35 years.
- AP