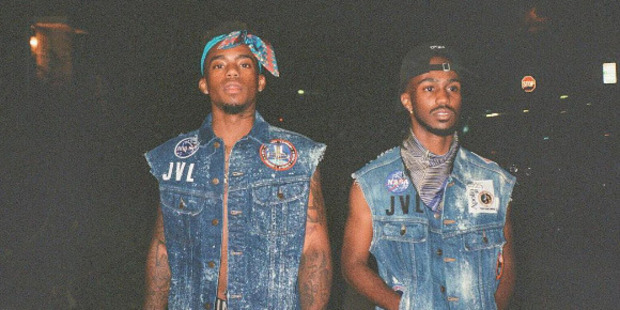 There's a new genre of music on the scene and while it definitely will not be everyone's cup of tea it does - somehow, despite all odds against its name - work.
It's called "grunge'n'b" - a fusion of R&B, hip hop and rock and Los Angeles-based duo THEY. are leading the charge.
The 14-track set of their new album Nu Religion: Hyena is sonically captivating, with Drew Love - the duo's vocalist - bragging like a rapper while singing in the tone of New Edition's Ralph Tresvant. Love sends his tenor over foreboding piano and grungy guitar on "Deep End," then raps alongside blazing guitar strings on Say When.
On the standout Motley Crew, he paints a picture of THEY.'s come-up: "Some might say we're armed and dangerous/Pay the price of a life every night but it ain't enough."
Heads will bop during the mid-tempo, organ-fuelled All and U-RITE. And fans of the late 90s TV series Dawson's Creek will recognise a brilliant use of Paula Cole's I Don't Want to Wait on THEY.'s Dante's Creek.
Much credit should be given to THEY.'s other half, producer Dante Jones, who's created soundscapes that make Nu Religion sound cohesive even with such an eclectic range of musical styles.
He's helping THEY. push the limits, and there's no telling where they'll go from here.