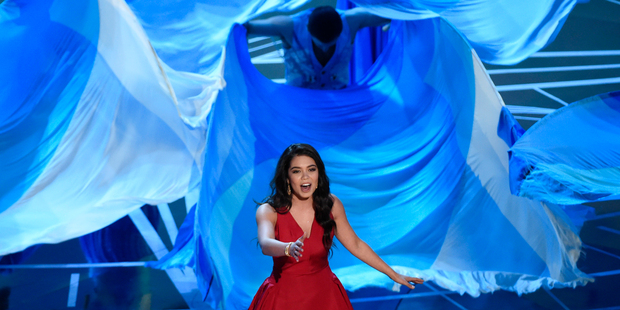 Auli'i Cravalho gave the biggest performance of career, singing at the Oscars ceremony, but all anyone's talking about is how it went wrong.
The Moana actress, who voices Disney's first Pacific princess, performed How Far I'll Go with Lin-Manuel Miranda at the ceremony in Los Angeles.
But partway through she was hit in the face by one of the flags which her dancers were swinging around in the background.
The internet immediately took to making gifs and memes, comparing the incident to the "left shark" debacle during Katy Perry's Superbowl performance in which one of the dancing sharks in the back was out of sync.
Blue flag is the new left shark.

— (((James Urbaniak))) (@JamesUrbaniak) February 27, 2017
When I get older I will be stronger they'll call me freedom, ...then I'll hit Auili'i Cravalho in the face #Oscars

— Harrison Lowman (@harrisonlowman) February 27, 2017
I need a gif of Auili'i Cravalho getting hit in the head with a flag right now. #Oscars

— Michael De Dios (@remichaelactive) February 27, 2017
But in her defence she recovered masterfully, finishing off the performance with total composure, and her fans were full of praise for it.
For real though, Auili'i Cravalho is so talented! Can't wait to see what she does next #Oscars

— Victoria Bradford (@VickayyyB) February 27, 2017
Lin Manuel Miranda and Auili'i Cravalho performance was so amazing and perfect #Oscars . They are both so cute!

— Capie (@CapieChat) February 27, 2017
Kudos to Auili'i Cravalho who doesn't skip a beat after an unfortunate mishap--exceptional professionalism. #Oscars

— Zelda (@Zelda_AH) February 27, 2017