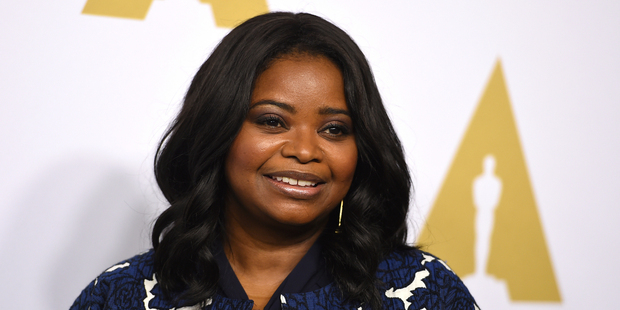 Even though Octavia Spencer is pleased with the record number of blacks nominated for acting Oscars this year, she's still disappointed by the lack of recognition for other people of colour.
"Diversity doesn't mean just black," Spencer said in an interview to promote her new film, The Shack. "I'm excited that more black people are being recognised.
"That's what I would like to see arrive for other people of colour, because they are so valued and underserved. I think when we ask the public, the paying public, to support films that don't portray them on-screen, that's hypocrisy."
Spencer is one of six black actors up for an Academy Award at today's ceremony. Dev Patel, who is of Asian descent, is nominated for best actor. Spencer is nominated for her role in Hidden Figures, which is nominated for best picture.
In the past two years all-white acting nominees led to the social media hashtag #OscarsSoWhite and a national conversation on race in Hollywood.
It also compelled Academy president Cheryl Boone Isaacs to implement a plan restructuring the membership to try to make it more reflective of women and minorities.
These days, Spencer has her own production company and believes she could be one of Hollywood's "biggest producers" in the near future. Spencer wants to create a lane for women and people of colour to share their untold stories in film, much like Hidden Figures.
She played Dorothy Vaughan, a pioneering black mathematician who worked at Nasa. When she won the Academy Award six years ago for best supporting actress, she played a maid in The Help.
"We are multifaceted people," said Spencer. "Yes, women of colour served in people's kitchens and cleaned people's houses. But there are African-American doctors, scientists and lawyers ...
"Those are the types of stories we also want to see presented in film."
Spencer said, however, that her production company would not be limited to telling black stories.
- AP