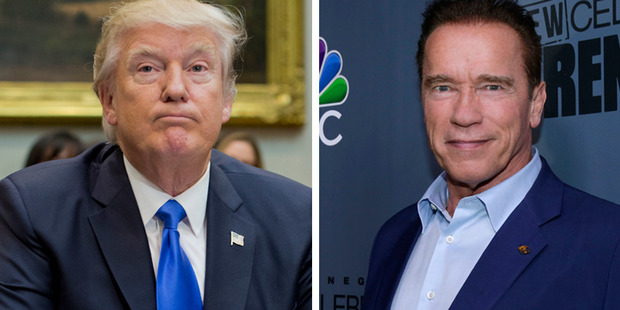 The war of words between the current host of Celebrity Apprentice and the previous one continues.
Of course this is no random reality-star war: We're talking about former California governor Arnold Schwarzenegger and President Donald Trump, respectively.
READ MORE:
• Would you pay $20 to sleep with Jeremy Wells?
• The Kiwi stars taking on Trump
Schwarzenegger on Monday said Trump's executive order banning immigrants' entry to the United States was "badly vetted" (that's an oft-heard criticism) and "makes us look stupid" (that's a flourish) in an interview with Extra's Mario Lopez.
"Donald Trump makes america look stupid"
-Arnold Schwarzenegger pic.twitter.com/XCX29hI8eT

— Jon Ekerwald (@JonEkerwald) February 1, 2017
The Austrian-born actor-turned-pol-turned-host noted that, at one time, he was a green-card holder, like some people affected by Trump's order. "I was in that position," Schwarzenegger said.
"It's crazy and makes us look stupid when the White House is ill-prepared to put this kind of executive order out there."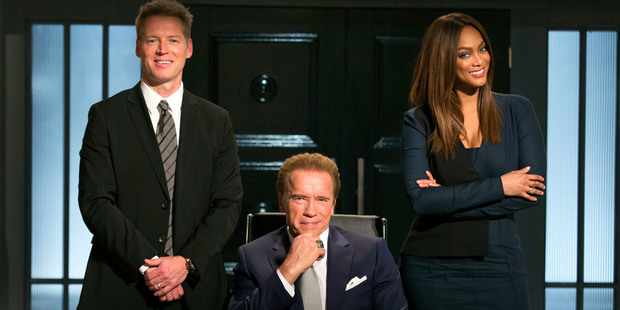 His criticism followed a public spat between the two men in January, which began when the then-president-elect tweeted taunts about how the Apprentice ratings had suffered since he left.
Trump called himself a "ratings machine" compared with Schwarzenegger. "But who cares, he supported Kasich & Hillary," Trump concluded.
Wow, the ratings are in and Arnold Schwarzenegger got "swamped" (or destroyed) by comparison to the ratings machine, DJT. So much for....

— Donald J. Trump (@realDonaldTrump) January 6, 2017
being a movie star-and that was season 1 compared to season 14. Now compare him to my season 1. But who cares, he supported Kasich & Hillary

— Donald J. Trump (@realDonaldTrump) January 6, 2017
Do you think the boss approves? #CelebApprentice pic.twitter.com/naa8vNuVYh

— #CelebApprentice (@ApprenticeNBC) January 24, 2017
Schwarzenegger pulled no punches and swung back, hinting that the president-elect should get back to work. "I hope you'll work for ALL of the American people as aggressively as you worked for your ratings," he wrote.