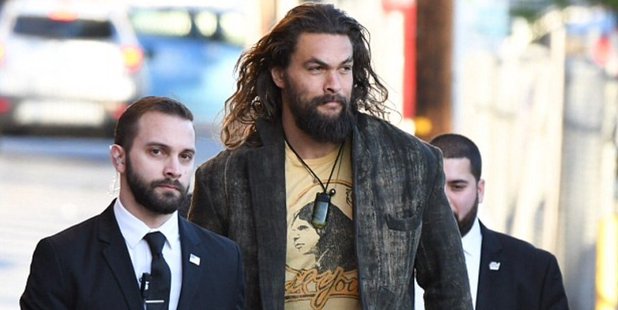 He may be an imposing figure, but Jason Momoa unwittingly supplied the Internet with some light relief when he was snapped stepping out with two bodyguards recently.
The 6-foot-4 actor, famous for playing warlord Khal Drogo in Game of Thrones, towers over the two men with him in the image, leading Twitter user @IcecreamGenius to wonder who was actually playing the role of protector.
one day i wanna be so jacked that my professional bodyguards look like minibosses you have to beat before you can fight me pic.twitter.com/K4B8rFaeLD

— Conor (@IcecreamGenius) January 27, 2017
Other Twitter users also saw the funny side of the image and added their own tweets commenting on the humorous pic.
@IcecreamGenius @Bartzebest extra points for the security detail looking like clones

— FFXV- Ch.13 (@JlnFrancisco) January 29, 2017
@IcecreamGenius The guy on the left is looking at the camera like "I agree this is silly, but I gotta get paid."

— Hicerion (@Hicerion) January 28, 2017
.@IcecreamGenius If you kill one of them, he waves his hand a few moves later and resurrects them.

— OkGetsu (@OKGetsu) January 29, 2017
@IcecreamGenius @heypayattn Jason looks like he could pick one of those guards up in each hand.

— B_Sharp (@DoubleDumas) January 28, 2017
@IcecreamGenius Then again, they must REALLY know what they're doing!

— ItsBeenSurreal (@Historianelwjr) January 29, 2017