The cast of Hidden Figures rocketed to the Screen Actors Guild top award at a fiery ceremony dominated by defiance over President Donald Trump's sweeping immigration ban.
An uplifting drama about African-American mathematicians aiding Nasa's 1960s space race, Hidden Figures was the surprise best-ensemble winner in Los Angeles.
With Oscar front-runner La La Land not nominated in the category, most expected a race between Moonlight or Manchester by the Sea.
"This story is about unity," said Taraji P. Henson, who stars alongside Octavia Spencer and Janelle Monae in Hidden Figures. "This story is about what happens when we put our differences aside and we come together as a human race. We win. Love wins. Every time."
From presenter Ashton Kutcher's first remarks, the ceremony was peppered with speeches arguing passionately for inclusion.
In an echo of US-wide protests at the weekend, most winners spoke in some way against Trump's ban on immigrants from seven mainly Muslim nations.
Julia Louis-Dreyfus, who added another honour for her performance on the political satire Veep, said she was the daughter of an immigrant who fled religious persecution in Nazi-occupied France and described the ban as un-American.
Perhaps the most moving speech came from Mahershala Ali, who won best supporting actor for his performance in Barry Jenkins' coming-of-age portrait, Moonlight. Ali said he saw lessons for today in Moonlight, in which he plays a character who helps a shy, gay Miami boy. "We see what happens when you persecute people," Ali said. "They fold into themselves."
He was among several Oscar favourites who cemented their front-runner status, including best-actress winner Emma Stone for La La Land and best-supporting actress winner Viola Davis for Fences. But best actor went to Davis' co-star (and director) Denzel Washington. Most expected the award to go to Casey Affleck.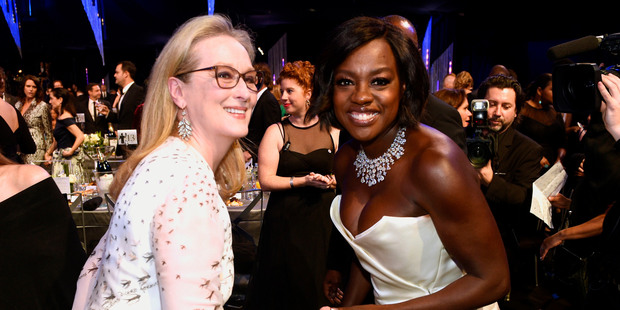 The most blistering speech was by David Harbour, who led the cast of Netflix's Stranger Things - another surprise winner - on stage to accept best ensemble in a TV drama series. "We will hunt monsters," he vowed, drawing a standing ovation.
The hit Netflix series Orange Is the New Black won best ensemble in a comedy series for the third year.
"We stand up here representing a diverse group of people," said star Taylor Schilling. "And we know that it's going to be up to us and all you, probably, to keep telling stories that show what unites us is stronger than the forces that divide us."
A pair of veteran actors took other TV honours: John Lithgow for best actor in a drama series (The Crown) and Bryan Cranston for his Lyndon Johnson portrayal in the HBO movie All the Way. Sarah Paulson (The People v. O.J. Simpson) and Claire Foy (The Crown) also won awards.
Lily Tomlin, 77, was honoured for lifetime achievement.
- AP