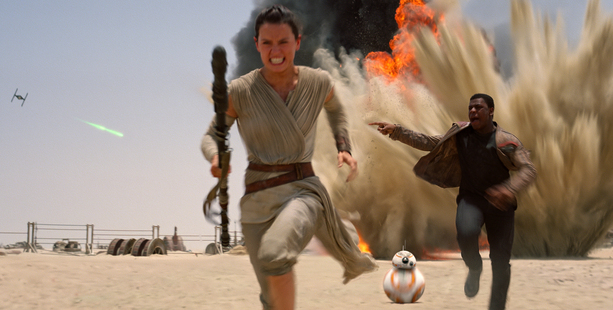 Star Wars: Episode VIII finally has a title: The Last Jedi.
The Walt Disney Co announced the title for the next chapter in the Skywalker saga today, with Star Wars: The Last Jedi due for release on December 15.
Speculation over just who the last Jedi is immediately ran rampant on social media. The Force Awakens chronicled Daisy Ridley's Rey discovering her powers with the Force, but ended ominously with a withdrawn Luke Skywalker (Mark Hamill) on a remote island. If there's to be just one Jedi left, Luke's days could be numbered.
In an interview at the Sundance Film Festival, Mark Hamill said he liked that the title was "straightforward" and "minimalist".
"They told us that when we were making the movie and I said don't tell me these things. I talk in my sleep," said Hamill. "They have us so jacked up with paranoia over leaks."
Writer-director Rian Johnson has previously said Episode VIII will start right where The Force Awakens left off.
It's official. STAR WARS: THE LAST JEDI is the next chapter of the Skywalker saga. This December. #TheLastJedi https://t.co/ySkVwQcMTP pic.twitter.com/eHrPgbsRJq

— Star Wars (@starwars) January 23, 2017
The announcement has sent fans into a frenzy, with many speculating about what the title means, and some already looking towards future installments.
Episode VII: The Force Awakens
Episode VIII: The Last Jedi
Episode IX: Wait We Found Another Jedi

— Scott Weinberg (@scottEweinberg) 23 January 2017
IS JEDI SINGULAR OR PLURAL IS LUKE THE LAST JEDI IS HE GONNA DIE IS REY THE LAST JEDI ARE THERE MORE JEDI OUT THERE WHAT ABOUT GREY JEDI???? pic.twitter.com/45e76wCLCX

— annie (@anniecalatrello) 23 January 2017
The Last Jedi (2017) pic.twitter.com/HLLQcapUYM

— ㅤelev (@stardustvader) 23 January 2017
Star Wars Episode VIII officially entitled The Last Jedi!!! And so it begins... pic.twitter.com/LdFv3lzx12

— Ziggy (@mrjafri) 23 January 2017
Several think pieces have already begun analysing what the title could mean for the future of the franchise.
Ben Child of The Guardian has suggested it would provide the series with the opportunity for fresh ideas, If the title is taken literally.
"That's an intriguing prospect indeed for those hoping to see this long-running, much-loved space opera finally take some risks and break new ground," he wrote.
Michael Cavna of the Washington Post wrote that the title suggests the series will focus on family ties.
Most people tend to agree that it brings Skywalker back to the series in the biggest way possible.