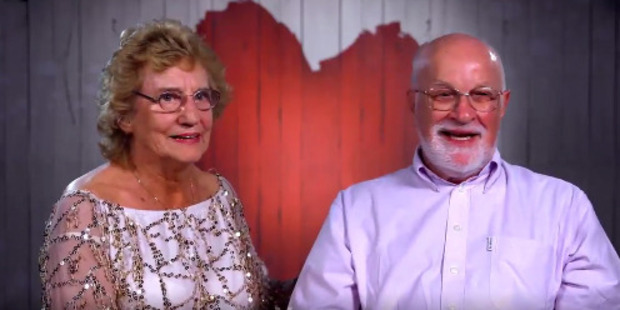 When we were presented with the idea of First Dates set in a hotel, we thought it would be more titillating than charming.
However, viewers were proved wrong in the latest episode - which aired in the UK on Monday - in which elderly couple Sheila and Bev felt a connection.
81-year-old Sheila was paired with 79-year-old Bev, and they had a date together in the hotel in Provence. The two were unsure they would ever find love again.
However, when they were matched together, they won over viewers, including First Dates waitress CiCi Coleman:
Omgggg Sheila and Bev . They r just too cute!!! #firstdates

— CiCi Coleman (@CiCi_Coleman) January 9, 2017
Sheila and Bev on first dates

— chad (@chadgilbert_) January 9, 2017
Bev and Sheila just melted my heart #firstdateshotel

— izzy (@izzzyw) January 9, 2017
Yessssss Sheila & Bev love prevails!! #firstdateshotel #firstdates

— Amanda Peach (@amandasc28) January 9, 2017
Bev told a particularly heartbreaking tale, recalling how he never managed to say goodbye to his wife who died from pancreatic cancer.
He received a phone call from the hospital notifying him of her death during an evening watching Formula One.
"I wanted to say goodbye but it wasn't possible... She had gone," he recalled.
Since returning home, Bev and Sheila have been painting the town red. Their next port of call...a cruise? #FirstDatesHotel pic.twitter.com/gBH6N263r6

— First Dates (@FirstDates) January 9, 2017
He hit it off with Sheila, however, who agreed to go on a second date with him at the hotel.
They even kissed, and Sheila jokingly told Bev that kissing a man with a beard was as bad as it seemed.
ALL of the emotions tonight with Sheila and Bev. #FirstDatesHotel pic.twitter.com/XALBt5eqW8

— First Dates (@FirstDates) January 9, 2017
Bev broke hearts when he told her: "You're the first woman I've kissed since my wife died."
They ended the episode promising to go on a cruise together.
This article was originally published by The Telegraph.