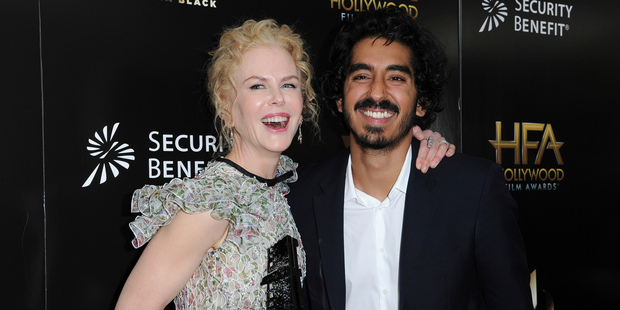 Much like the American presidential race, it's never too early to start campaigning for Hollywood's awards season, and stars got an early chance at the Hollywood Film Awards.
The show has been criticised for its nebulous selection process and odd tradition of recognising films before they're released, but the untelevised ceremony at the Beverly Hilton Hotel drew an A-list crowd.
"Tonight is actually rigged," host James Corden told the audience. "Literally, none of this is real."
That didn't stop such actors as Tom Hanks, Leonardo DiCaprio, Nicole Kidman, Natalie Portman and Matthew McConaughey from showing up to accept trophies. There were no nominees and winners were announced in advance.
Today's election was a recurring topic throughout the night. Corden set the tone with several political quips in his opening monologue.
"This year they brought back Star Wars with a female lead. They rebooted Ghostbusters with a female cast. And I pray to God they reboot the Clinton presidency with a female lead," the CBS late night host said.
Robert De Niro urged support for Hillary Clinton on stage. "We have the opportunity to prevent a comedy from turning into a tragedy," he said.
Accepting an award for his documentary Before the Flood, DiCaprio talked about climate change as "an urgent threat to life on earth as we know it". Director Fisher Stevens said the film is available free through election day.
The show is scripted, with most stars reading from a prompter.
"Even though I didn't write that, I absolutely agree with that," Susan Sarandon said after reading heartfelt words about Portman, who was honoured for her portrayal of Jackie Kennedy in Jackie.
Casey Affleck made fun of the stiff script he was given to introduce Manchester By the Sea screenwriter Kenneth Lonergan.
Artists accepting awards, though, did do so sincerely. Naomie Harris talked about having to drop her own judgments to play a drug-addicted mother in Moonlight.
"I am forever changed as a result of this journey," she said.
Kidman received the supporting actress prize for Lion, a film she says "will show people the inherent goodness in all of us."
Eddie Murphy was greeted with a standing ovation for his career achievement award, which he said "warms the cockles of one's heart".
Corden closed out the night by saying: "We're out of fake awards to give out."
- AP