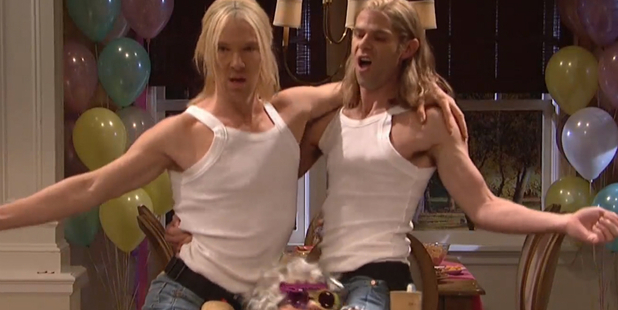 Benedict Cumberbatch guest-starred on an episode of Saturday Night Live, and it made for a truly bizarre viewing experience.
One sketch, in particular, has divided audiences. The Oscar-nominated actor, dressed in cut-off jeans and a blonde wig, played a dim male stripper who gyrated for a frail grandmother (SNL comedian Aidy Bryant) - without realising that she had died just moments before.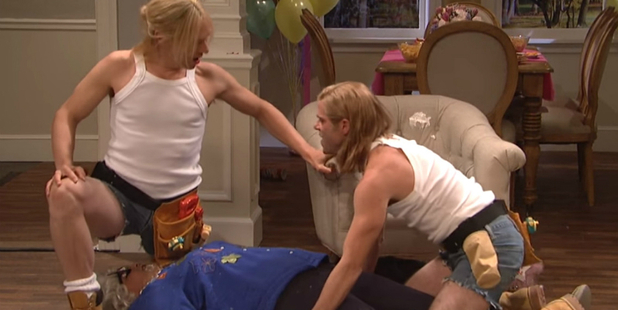 He arrived dressed as a construction worker, promising a "delivery of some heavy wood" in a thick American drawl, before shimmying around Bryant's character and eating a cherry from her lifeless mouth.

Despite Cumberbatch's energetic performance, responses to the show on social media have been mixed, with many criticising the quality of the writing, while one fan wrote that the skit was "creeping me out".


just saw the snl sketch where benedict cumberbatch plays a male stripper and i no longer want eyes

— tom (@nullBaa) November 6, 2016
look, I like Cumberbatch as much as the next woman, but last nights #snl wasn't good. Except when the @cubs came on.
Speaking of...

— sandie (@sandiek) November 6, 2016
Cumberbatch was game last night but the sketches were not good #snl

— Kath H (@kathholl) November 6, 2016
The Benedict Cumberbatch episode of #SNL feels like it was written for a week when a male supermodel is hosting. Lot of body/accent humor.

— Chris Berg (@ChrisBerg25) November 6, 2016
Cumberbatch teabagging Aidy Bryant is actually creeping me out like crazy right now. #SNL

— Morgan C (@notanangel81) November 6, 2016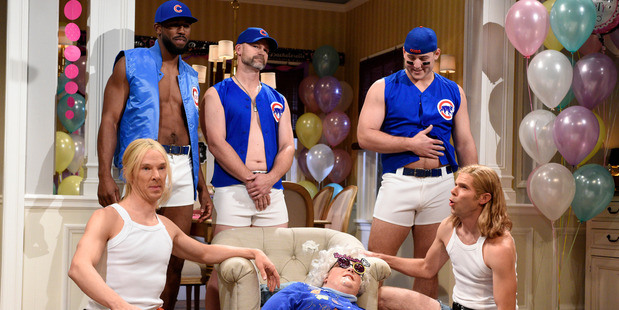 One viewer saw a parallel between the "weird" character and unsettling Cumberbatch's performance as Julian Assange in The Fifth Estate:
Cumberbatch in a blonde wig reminds me of Julian Assange so this sketch is extra weird. #SNL

— Keisha Hatchett (@Keishamaze) November 6, 2016
The skit was branded as "tasteless" by TVLine, while the AV Club's critic wrote that Cumberbatch "came off variously flat and sheepish in what were, admittedly, some of the weakest sketches of the season," adding that the male stripper sketch "went on interminably and awkwardly."
Nonetheless, the sketch did have a few defenders, with one Cumberbatch fan tweeting that Bryant was "a lucky lady."


So @aidybryant is a lucky lady tonight. So much booty, so much junk. #SNL #Cumberbatch #Cubs

— Michelle Lilley (@MsM_Lizzle) November 6, 2016
I have no idea how @aidybryant didnt burst out laughing w Benedict Cumberbatch doing his male stripper bit on her. #SNL #comedy

— Aida (@whosthisaida) November 6, 2016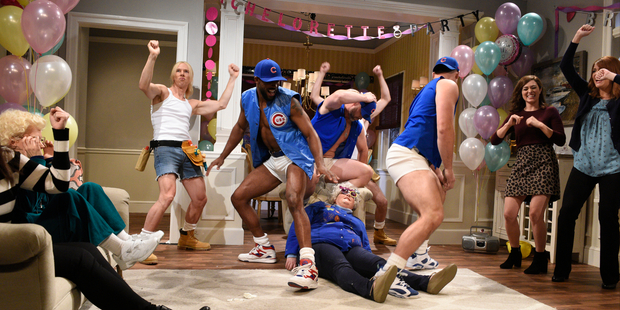 If you're feeling bold enough, you can watch the questionable skit here.