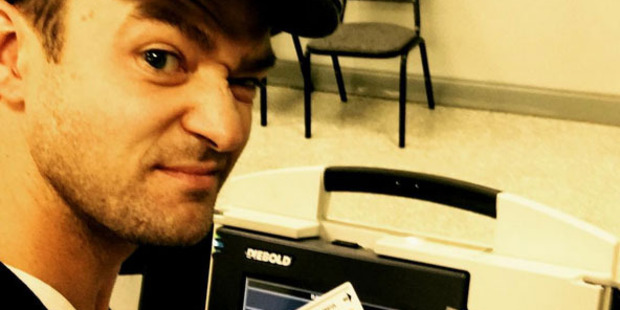 Justin Timberlake has some advice for taking part in the presidential election next month: Vote, but don't take a selfie while you're doing it.
A ballot box selfie Timberlake took as he voted in his native Tennessee earlier this week apparently violated a new state law that bars voters from taking photographs or video while they're inside a polling place.
The picture prompted a reminder of the law from state officials.
The singer and actor addressed the controversy during an appearance on The Tonight Show, telling host Jimmy Fallon he thought he was inspiring people with the picture and "had no idea" it was illegal.
Timberlake posted the picture on Instagram Monday, noting that if he could make that effort, then there are "No excuses, my good people!"
He wrote: "Choose to have a voice! If you don't, then we can't HEAR YOU! Get out and VOTE!"
A Tennessee law that took effect earlier this year bars voters from taking photographs or video while inside a polling location.
Tennessee Secretary of State spokesman Adam Ghassemi says officials are "thrilled Justin can't stop the feeling" but reminded voters to use their phones inside polling locations only to help them vote.
Timberlake lives in California, but grew up in the Memphis area and owns property near Nashville.
A recent Associated Press review found that 17 states, including Tennessee, have laws preventing ballot selfies.

- AP