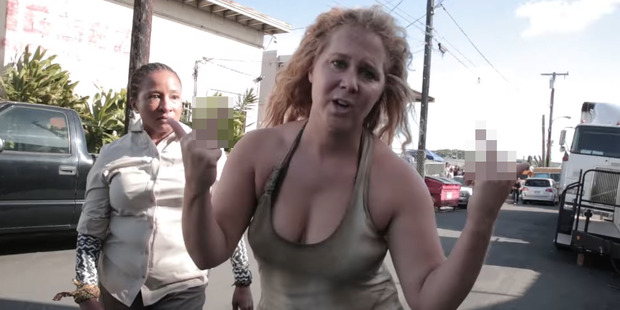 Amy Schumer is brushing off critics who say her parody of Beyonce's Formation video is racially insensitive.
The video features a sweaty Schumer dancing to the song alongside Goldie Hawn, Wanda Sykes and Joan Cusack. Some Twitter users are slamming the video on charges of cultural appropriation.
There is no possible excuse for @AmySchumer not to know the cultural significance of #Formation for black women.I hope this hurts her career

— Victoria Weinstein (@peacebang) October 24, 2016
Why this racist, ignorant, white feminist is never held accountable for anything problematic she says is beyond me #AmySchumerGottaGoParty

— ✵Rama✵ (@commieecat) October 24, 2016
Fingers crossed this tasteless Formation parody breaks the spell and everyone sees Amy Schumer the way she really is, problematic.

— Abby Quintana (@SpeakOfFiction) October 25, 2016
Beyonce's version of the clip showed the singer sitting atop a New Orleans police car sinking in floodwaters. It also includes images of a hooded black child facing police and graffiti scrawled on a wall that reads Stop Shooting Us.
The YouTube clip has three times as many negative votes as positive recommendations.
Watch the "@GoldieHawn and @AmySchumer Get In Formation" @Beyonce parody video - exclusively on https://t.co/nzfNHQERzV #TIDALXAmySchumer pic.twitter.com/8fSDmxGZ5V

— TIDAL (@TIDALHiFi) October 21, 2016
Schumer responded on Instagram, thanking streaming music service Tidal for releasing what she calls a "tribute."
"You know you that b**** when you cause all this conversation. Thanks for the exclusive release Tidal! We had so much fun making this tribute. All love and women inspiring each other," she wrote.
Read more:
• Surprise child on the way for Carly
• Chrystal Chenery's puppy love
Tidal is partially owned by Beyonce and her husband, Jay Z.
*Warning: Video contains explicit language*


- AP