Over the last few days, there have been defections among Donald Trump's supporters, including from his (albeit small) celebrity base. So which boldfacers are heading for the exits?
After the Washington Post broke the story of the GOP candidate's lewd comments about women, Scream Queens actress Kirstie Alley acknowledged that she was no longer on Team Trump.
READ MORE:
• Meet the Kiwi stuntman working on Meg
• Kim K Halloween costume is absolutely 'disgusting'
I love this..but I hate this election and I'm officially no longer endorsing either candidate..I'm voting for the woman with the ladder https://t.co/A0trijJvVK

— Kirstie Alley (@kirstiealley) October 9, 2016
That was a reversal from her stance in April, when she enthusiastically endorsed the GOP nominee.
Hip-hop singer Azealia Banks, too, recanted her support of Trump, posting on Facebook: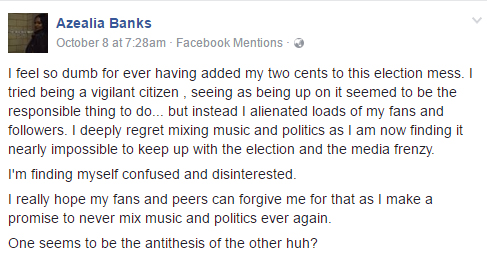 And former boy bander Aaron Carter took to Twitter on Monday to clarify that he's no Trump supporter.
Carter, in fact, had withdrawn his support for the real estate mogul all the way back in April, before dumping Trump was cool, citing "too many reasons."
But the flap over the video apparently prompted him to remind his 525,000 followers that he'd already jumped ship.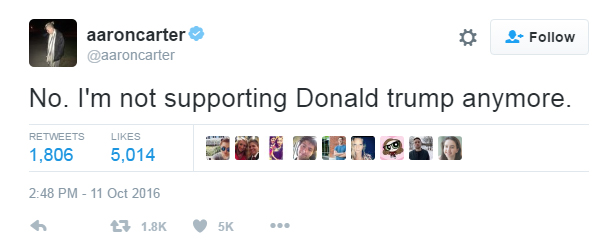 Still, some of Trump's most ardent celeb supporters are still #withhim. Take 70s-era sitcom hunk Scott Baio, who was one of the featured speakers at Trump's nominating convention this summer.
The Joanie Loves Chachi star's backing of Trump hasn't wavered. The day the tape aired, Baio tweeted his sympathy for Trump:
Let's all walk around with an open mic & see what most people really have to say!We're all sinners.At least Trump apologized unlike Bill C

— Scott Baio (@ScottBaio) October 9, 2016
And Hercules actor Kevin Sorbo used the "which is worse" defence of Trump's remarks.
"So let me get this straight...Trump making a comment about women 11 years ago is more damaging than all of the crimes Hillary has committed?" he asked in a Facebook post. "Just wanted to verify."