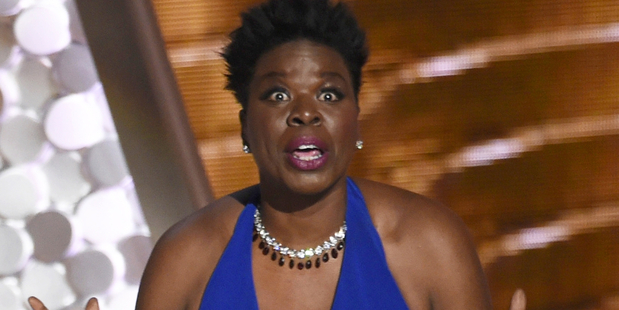 Prepare yourselves, because Leslie Jones has every intention of live-tweeting the presidential debate.
The Ghostbusters star shot to internet fame when she live-tweeted the Rio Olympics, and her tweets made such an impact she was flown over to Rio to help cover the event alongside presenter Ryan Seacrest.
READ MORE:
• Sam Neill nailed his first Graham Norton Show gig
• KJ Apa's impromptu jam session
Now, she's turning her attention on "that fool" Donald Trump, and his second presidential debate with Hillary Clinton taking place today.
She tweeted: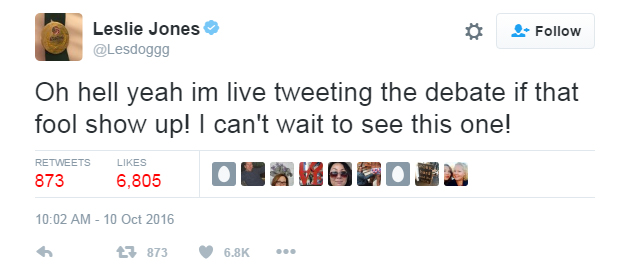 Jones' fans tweeted their support for the star, with many saying they'd given them a new interest in the debate.
@Lesdoggg Now I have a reason to watch!

— Aunt Kim (@AuntKim328) October 9, 2016
@AuntKim328 @Lesdoggg let 'em have it Leslie!!!

— Hollywood in DC (@HollywoodinDC) October 9, 2016
@Lesdoggg can we petition to get you as moderator

— Halloween Mike (@hackettology) October 9, 2016
@Lesdoggg I live for your live commentary!! #snl #debate

— Lindsey Anderson (@ltanderson13) October 9, 2016
@Lesdoggg I was going to watch it but now I'm really excited! Woohoo!

— sue constantino (@violet500) October 9, 2016
Follow Leslie Jones's live-tweeting of the second presidential debate here - though be warned, she's known for using strong language.