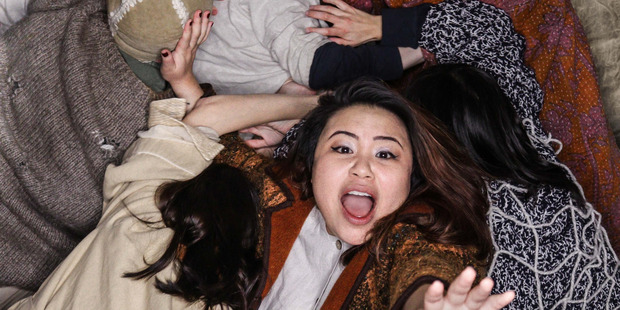 When you move to a new place what do you take with you from your former life?

We're not talking about the tangible stuff of life - furniture, photo albums, favourite books, your car - but the more ethereal: traditions, family history, cultural beliefs and practises which make you who you are.

It's a question theatre-makers Chye-Ling Huang and James Roque have pondered a lot during their lives as young Asian New Zealanders and, because it's what they do, they've turned to story-telling and the stage in search of answers.

The founders of Pretty Asian Theatre, recently renamed Proudly Asian Theatre (PAT), Call of the Sparrows is the third production in the company's three-year history. Written by Huang, it's set in a tiny mountain village - beyond the reach of clouds - where gossip is currency and tradition is everything but when Little Sparrow arrives, she finds herself forced to make choices which will change village life forever.

"It's about what we hold on to and why we choose to hold on to it," Huang explains. "Yes, you can read a lot into politically but I want the audience to come with an open mind because the lense through which you view things is always going to be influenced by the things you hold on to and the reasons why."

Call of the Sparrows marks a significant development for PAT. Devised out of 10 minute pieces made for the Short 'n' Sweet festival of one act plays, it's PAT's first original production, the full-length play Huang has written and the first Roque has directed.

They also received $70,000 from the Creative New Zealand and Foundation North Auckland Diversity Project Fund, aimed at attracting more Maori, Pacific and Asians audiences and artists in the region.
The money has allowed PAT to cast six actors (all young Asian New Zealanders), work with writing and directing mentors, employ a producer and run community workshops and the week-long preview season with Auckland Live.

It allows them to take things to the next level, says Roque, and that's an important step for the company reflected in its name change. They admit when they started Pretty Asian Theatre, they needed a name quick smart for a funding application.

"And it reflected how we felt at the time," says Roque, "when we'd just come out of drama school and realised if, as Asian actors, we were going to get work, we'd have to make our own opportunities and we thought, 'yeah, we feel pretty Asian', as in fairly or quite a bit so it suited."

Now Proudly Asian Theatre better acknowledges how they feel about the plays they've made so far and where they're heading.

"It was always about creating work for ourselves, but now we want to become a platform for other people; a place where the past versions of ourselves could have looked toward for inspiration and opportunities."

But Huang points out that they realise "Asian theatre" is a catch-all term and, given the diversity of Asian people and arts, it's not one easily definable thing. She says no matter what its themes, if a play has an Asian writer then it could well be an Asian play.

"Whatever story an Asian playwright will tell us is an 'Asian story' and we should be proud of that and inspire others to be proud of themselves and the work they are doing."

She says writing a full-length play, in contrast to the pieces she's written for Short 'n' Sweet, is more like running a marathon than doing a sprint race: you need to pace yourself, allow time for ideas to take shape and be prepared to jettison what's not working.

Being part of Silo Theatre's Working Titles project has also helped. Working Titles supports writers by pairing them with directors and dramaturges to take an original idea from the page to the stage. The Silo Theatre Trust received $20,652 from the Auckland Diversity Project Fund for another of Huang's plays, Black Tree Bridge.

"I've learned a lot through that which I've been able to apply to Call of the Sparrows," she says, adding that it is initiatives like this that are much-needed to develop the next generation of theatre writers and makers."

What: Call of the Sparrows
Where & when: Herald Theatre, October 11 - 16