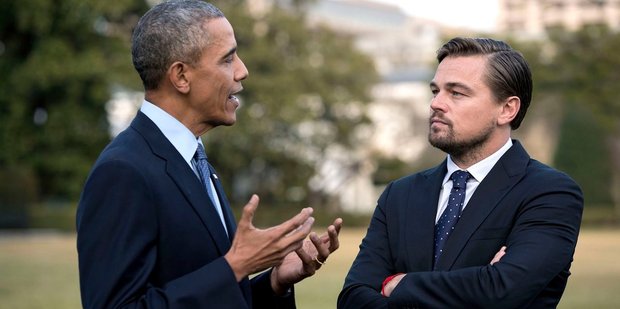 Leonardo dicaprio has taken time out from driving his Prius and partying on a yacht with a slew of Victoria's Secret models to meet President Barack Obama this week.
The actor met POTUS ahead of the President's South by South Lawn Festival, where they'll be discussing climate issues.
And while a photo of the pair posted on The White House Twitter account appears to show them in deep, intelligent conversation, social media had other ideas as to what the topic of conversation was.
And a lot of it was about why Rose didn't let him on that door after the Titanic sank.
OBAMA: But there was enough room for you and Rose
DICAPRIO: Mr.

President, I don't
O: Were you more focused on getting revenge on the bear? pic.twitter.com/ypndyzm0Dz

— Daniel Lin (@DLin71) September 26, 2016
@jakebeckman "Okay but for real why didn't she move over and let you hang onto the door too?"

— Josh Gondelman (@joshgondelman) September 26, 2016
"All she had to do was move over. I just don't get it." https://t.co/98LXibWrDl

— Neil Bhatiya (@NeilBhatiya) September 26, 2016
"There was definitely room on the door right" pic.twitter.com/V12Y4m5jWn

— Jenna Guillaume (@JennaGuillaume) September 26, 2016
More from Spy:
• MAFS star hits back at 'bitter' castmate
• Why Katy Perry's getting naked for Hillary
Thanks to photoshop, The Revenant also got a mention.
"just hug the bear cub leo"
"mr president..."
"it was a movie leo get over it hug the bear cub just do it he is really soft"@jakebeckman pic.twitter.com/7gY8g7PNy2

— darth™ (@darth) September 26, 2016
And some thought Obama was just providing some insights on Leo's rotating group of model lovers - delightfully dubbed by Hollywood as the "p*ssy posse".
"America isn't just about a 'pussy posse'. It's about pussy possibilities." pic.twitter.com/3i0aDiLwqH

— Alex Blagg (@alexblagg) September 26, 2016