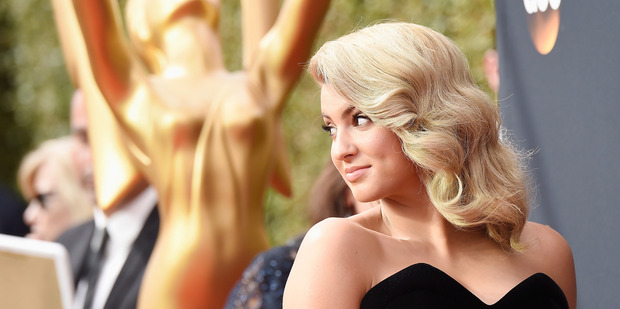 It's another hot, hot, hot year on the Emmys red carpet.
With temperatures in the 90s in downtown Los Angeles on Sunday, one woman in the fan bleachers outside the Microsoft Theater was wheeled out on a stretcher by paramedics.
She was alert, sipping water and smiling but had become dehydrated. Her condition prompted event staff to remind everyone present to remember to keep drinking water.
Staffers also fetched little Emmy-branded water bottles for anyone who asked.
Others in the bleachers came prepared with umbrellas, books and snacks while waiting for things to get going.
Only a few nominees had arrived 90 minutes before show time but the red carpet was bustling with security checks and other pre-show activity.
Los Angeles Police Chief Charlie Beck is asking Emmys attendees to remain vigilant in the wake of explosions in New York City and New Jersey.
Beck says there are no known credible threats to security in Los Angeles, but those attending Sunday's Emmys in downtown Los Angeles should report any suspicious activity.
Downtown LA is an especially busy place on Sunday, with the Rams playing their first home football game in 22 years at the nearby Los Angeles Memorial Coliseum.
Beck says Los Angeles police are constantly assessing security threat levels in the wake Saturday's two explosions.
Officials in New York are trying to determine who was responsible for an explosion that injured 29 in Manhattan's Chelsea neighborhood. New Jersey law enforcement is trying to determine if a pipe bomb that exploded at a seaside community was related to terrorism.
- AP