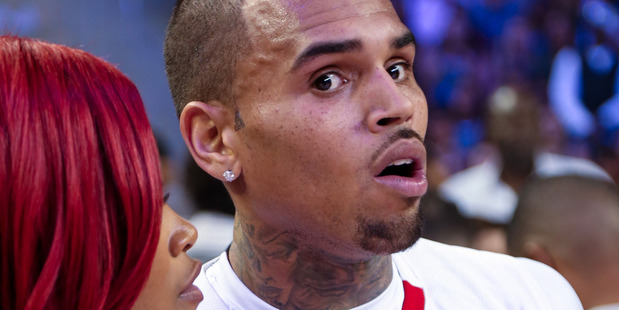 Chris Brown has sparked outrage in the US after refusing to stand for the American national anthem on the 15-year anniversary of 9/11.
Police were also called to the event when the troubled pop star got into an argument with a spectator.
The 27-year-old stayed seated as R&B singer Tank performed the The Star-Spangled Banner at a charity basketball game in Los Angeles on Sunday.
The father-of-one is the latest celebrity to join San Francisco 49ers quarterback Colin Kaepernick's protest against racial injustice and police brutality.
Brown addressed the incident through his Instagram account.
Before performing, Tank called on the crowd at the USC Galen Centre to stand in a show of respect for those who lost their lives in the terrorist attacks 15 years ago.
But Brown refused to get up, instead nodding his head and clapping at the end of the performance.
The Zero singer's act of defiance sparked outrage, with some Twitter users branding him a hypocrite.
Priceless. Chris Brown, who horribly physically beat a woman, sits during #NationalAnthem 2 make a 'statement'? https://t.co/jA4ding0aO

— Tracey Theisen, MBA (@TraceyTheisen) September 12, 2016
Chris Brown is a disgusting example of a human. Refuse 2 stand during the national anthem on 9/11? If I was there I would have pissed on you

— Zach (@ChgoZach76) September 12, 2016
Brown was later spoken to by police after getting into a heated exchange with a spectator in the stands, though loud music made it difficult to hear the nature of their row.
One of the officers at the event at USC's Galen Centre in Los Angeles could be heard saying in footage of the incident: "I don't care who's here, get it straight."
The news comes after Brown was arrested on suspicion of assault with a deadly weapon at his LA mansion last month when beauty queen Baylee Curran accused him of pointing a gun at her.
During an hours-long siege, Brown verbally attacked law enforcement officers.
In a series of Instagram videos, he accused police of "defacing" his character and making him out to be a villain.